WYD RIO 2103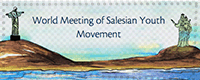 Request from the joint YM and SC Commission at national level in Brazil - Could you please include this banner (and its link to their site at www.mjs.org.br) in your local Salesian websites.
8/4/2013 - Ecuador - Meeting and Retreat for people involved in Social Communication
– Strengthening teamwork, tackling the Pope's World Communication Day Message and evaluating communications in the Province... (read more)
17/4/2013 - Italy - Young people, the internet and changes brought about by the new media
– On Saturday 20 April the Salesian University Institute, Venice (IUSVE... (read more)
15/4/2013 - RMG - World Advisory Council for Social Communications at the end of the six year period work
– The Department of Social Communications has just held the last meeting of the World Advisory Council for this six year period... (read more)
From you

I thought that it may be possible to place the attached picture to have people send their birthday wished to Fr Arthur Lenti who turns 90 on 31 January 2013!
Here is a link that they can post their greetings to:

Don Bosco Hall
or
Facebook
Fr John Roche,
Don Bosco Hall, Berkeley USA
Forward to a friend
Know someone who might be interested in this email? Why not forward it to them.
ROME: UPS, 3-4 May 2013 Formators and formandi, initial formation Italy for study of World Communications Day Message 2013.
ROME: Pisana-Salesianum, 9-12 May 2013, all SC Delegates Europe.
PORTUGAL: 13-14 Mayo 2013, Meeting of 4 Editors
ARGENTINA: 16-22 September 2013, CS delegates meeting - America
INDIA: 15-18 October 2013, CS Delegates Meeting - South Asia
THAILAND: 21-24 October 2013 CS Delegates Meeting - AEO
ROME: Pisana 15-17 November 2013, Meeting of Editors of Europe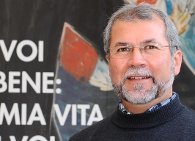 Dear friends,
Warm greetings to everyone, with the news that we have had the SC Advisory Council (Consulta) meeting in Rome. It had good representation from the eight regions and various SC media in a number of the continents. This was a fruitful meeting in a fraternal atmosphere, with quality, high level reflection also shared with the Departments of Formation, Youth Ministry, Missions.
The topics we took up were: evaluation of the six year period and proposals for the next one, proposals for GC27 with regard to articles of the Regulations referring to SC; suggestions for coordinated effort between the departments (formation, youth ministry, missions, SC; and planning the publication of a book which will support formation of Salesians and laity to SC from a Salesian point of view.
Just a brief comment on the final point of the book and formation. I asked experts and scholars in SC in the Congregation to develop topics which can help us to understand, be a basis for and change the mindset of the majority of Salesians have towards SC. The idea is to publish a book, but more especially that the Salesians read these articles, at least one per month. We will be sending out these articles to Provincial Delegates and it will be up to them to encourage, seek strategies for them to be read and reflected upon by at least a good number of confreres, if not all of them. Our confreres and lay co-workers in the mission need information and formation for Salesian SC. This is a task we will be committed to tackling more intensely, since there really is no other way that we can bring about a change of mentality.
To conclude, let me remind you to fill out, please, the data collection forms which are for overall evaluation and information for GC27. We have listened to suggestions and to facilitate everyone's work we have completed and adapted formats that you need to fill out then send to us personally.
I and the Department team send you our greetings and remain at your service.
In Don Bosco,

Fr Filiberto González, Councillor for SC
– The data-collecting process for drawing up the combined statistics of the Congregation to be presented to GC27 has begun. Those involved in the process are provincial secretaries and provincial delegates for formation, youth ministry, social communication. (read more)
18/4/2013 - Slovakia - Lumen Festival to conquer Europe
– The young people of the Salesian Youth Association DOMKA present once again this year the Lumen Festival of gospel music, one of the most important festivals of its kind in Central Europe... (read more)
– The charitable initiative promoted by the Informatici Senza Frontiere (ISF) association and Monclick Firm...(read more)
2/4/2013 - Italy - Graphic design and publishing production exchange
– As a concluding activity of the upper education courses in graphic design and production...(read more)