Argentina ARN: Don Bosco the Musical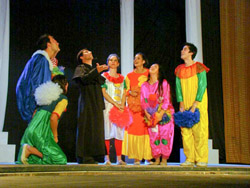 On Saturday 17 December at the Saint Anthony of Padua community theatre in Córdoba, a group of young people from the Salesian houses in the "Blessed Artemides Zatti" Province of North Argentina (ARN) gave the first performance of the show "Don Bosco, the Musical", based on the work of Piero Castellacci.
Directed by Fr Ricardo Campoli and with Fr Germán Llomplat, in the role of Don Bosco, the show is a collection of some significant moments in the life of the saint from Turin and tells a unique and extraordinary story. Events include the early days of the Oratory, the beginnings of the Congregations of the Salesians and of the Daughters of Mary Help of Christians, the journey of the first missionaries to Argentina and the atmosphere of joy and celebration of the Oratory boys.
The audience filling the hall appreciated the excellent unfolding of the story, in which among those presented were the Virgin Mary, Mamma Margaret and the Cardinal. There was also a ten member corps de ballet.
According to the organisers "the idea behind the musical was that of bringing together the young people and other collaborators from across the whole of the new Salesian Province and to illustrate the communion among them." There was a second performance on Sunday 18 attended by a large number of people involved in the various Salesian centres.
Fr Campoli said he was happy with the success of the production: "As Salesians we are called to have an experience of God and to have an oratorian heart like Don Bosco's, re-emphasising our option for the poorest youngsters and going out to them wherever they may be. In this way the musical is intended to reach them, call them, gather them together and give them space and an opportunity in their present circumstances to become new men and women committed to their own world."
During 2012, in view of the Bicentenary of the birth of Don Bosco and in consideration of the year dedicated to getting to know his life story, the musical will be performed in various centres of the ARN Province, reviving the Salesian heart and spirit of the Oratory.

Cuba sets up SDB Comms Network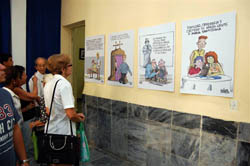 A meeting for social communicators from the five Salesian works in the country took place in December: Santa Clara, Camaguey, Santiago de Cuba and the two houses in the capital, Compostela and Víbora. The meeting was led by Fr Bruno Roccaro and Fr Julio Fernández, responsible for social communications in the Cuban Provincial Delegation.
The main reason for the meeting was the setting up of a network of social communicators in the Cuban Provincial Delegation, composed of workers in audiovisuals, graphic designers, in the press and Salesians.
During the meeting the decisions were taken to promote social communications. In January 2012 a Bulletin of the Salesian Family will start, and the site for ecclesiastical and Salesian information www.salesianosdecuba.org will be re-launched. These two initiatives will be coordinated by the "Padre José Vandor" Centre of Communication in Santa Clara.
As members involved in pastoral work in their respective parishes, the communicators were invited to promote the "Valdocco to Cuba" Project, a programme which the Salesians are running at present to renew and to improve Salesian action in Cuban society, especially among the young. This is a project which responds precisely to the mission and the preferential option of the new Network, aimed at transmitting Gospel values through social communication, in continual dialogue with culture.
The Network aims to bring together those professionally engaged, lay people and Salesian, working in the field of Salesian communication, promoting shared initiatives in the areas of formation and evangelisation, ensuring that the message communicated through various media is united and effective, in making known all the initiatives undertaken by the Salesians in Cuba on behalf of the young.
Do you want to prepare a banner for sdb.org? You could prepare for an upcoming feast day, or the Strenna theme or other.... 570x165 px please.
Spain Hemos terminado de dar forma a la Agencia de Noticias Salesiana en España Infoans.
Así estamos inscritos en la agenda de comunicación del gobierno (ver), de forma oficial, y hemos lanzado una web www.Infoans.es pensada para los medios y donde recoger las noticias que publicamos en el portal, sólo las noticias y notas de prensa. Además hemos abierto un canal en youtube (boscomedia24) donde subir videonoticias de todos nuestros ambientes. Todas estas noticias además irán alimentando un canal de twitter y otras redes.
Estos canales están abiertos y disponibles para todas las realidades salesianas de España. Noticias de inspectorías de salesianos y salesianas, editoriales, federaciones de centros juveniles, grupos de familia salesiana, etc… podemos reunir las informaciones significativas en una web, que iremos dando a conocer y que os ruego difundáis.
La web se alimenta directamente de las noticias que aparecen en el Portal donbosco.es con lo que todo lo que me enviéis se publicará directamente en los dos sitios. La web Infoans.es podemos centrarla solo en la información, pensando en un público incluso más amplio que el portal, dándola a conocer también a los medios de comunicación.
Sigo animándoos e insistiendo fervientemente en que hagamos circular la información que generamos. Esto sólo tiene beneficios para todos. Nos damos a conocer y llegamos a más público. No dejéis de enviarme notas de prensa, informaciones, etc… no penséis que no es interesante. A veces seguimos pensando demasiado en espacios estancos, en la época analógica, cuando el mundo digital va por otro lado… presentemos con fuerza la realidad salesiana en España, variada, rica en iniciativas. ANS España es la agencia de todos.
En enero haremos el lanzamiento de esta web, que ahora en estos días tenemos la atención puesta en otras cosas…
Aprovecho para desearos una Feliz Navidad.
A vuestra disposición.
Javier.
India
"Dear Fr. Filiberto Gonzalez
Thanks very much for sending the SSCS News regularly. It's very informative and interesting to know about the programmes of the SC Department and also the details about the Congregation. My sincere appreciation and Congratulations to you and the efficient team.
I belong to the Province of Bangalore.
While Fr. Filiberto was a student of ISCOS - UPS I too was a student of ISCOS (1991-1994). Indeed very happy that you are guiding the Congregation's Social Communications.
At present I am at the National Institute of Social Communications Research and Training (NISCORT), of the Catholic Bishops Conference of India (CBCI) New Delhi, teaching and co-ordinating the studies.
Fr. Devassy Kollamkudy SDB
NISCORT, NCR-DELHI
Forward to a friend
Know someone who might be interested in this email? Why not forward it to them.
ROME-Pisana: 13-15 January, DBClip preparatory meeting
ROME-Pisana: 1-4 March, Salesian Publishers Europe.
OSTRAVA-Czech Republic: 8-11 March, Multimedia Europe.
SANTIAGO-Chile: 12-15
April, Publishers, TV/Radio Americas.
UPS-FSCS-Italy
(location to be decided): 12 May - novices and postnovices SDB and FMA; joint meeting to discuss the Pope's Communications Day Message
LISBON-Portugal: SC Delegates 2-4 May; PE Reference Persons 4-6 May 2012.
ROME-Pisana: 16-20 May, Salesian Bulletin Editors (world)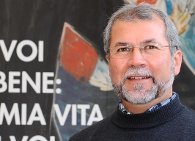 My dear confreres and friends of SC,
We have begun a new year which only the presence of the Emmanuel can transform into "new times". May it be so for each of you, your families, communities and SC teams throughout 2012.

On 24 January, Pope Benedict XVI will officially deliver his Message for the 46th World Communications Day: "Silence and Word: path of Evangelisation". This year, and with this message, we will commence a joint experience between SDBs and FMAs, and urge Provinces around the world to carry out a journey of study and reflection on each year's theme from when it is first proclaimed (24 January, Feast of St Francis of Sales), until the day it is actually celebrated (Sunday before Pentecost). This becomes a fundamental point for animation for the Provincial SC Delegate working in closely with other Sectors. You have received some information about this already.

The second matter this letter refers to is something that regards the whole Congregation. The Project Europe Commission met in December 2011, and as far as Social Communications is concerned a number of important tasks were assigned which I would ask you to put into practice from this point on: include testimonies and experiences of confreres and communities part of the Project, in the SB in each Province; include the "banner" and official "logo" associated with Project Europe in all the Web pages of the European Provinces as well as a link to sdb.org; send ANS articles, photos and videos which offer a short presentation of significant experiences.

A final point of a practical nature is the role SC plays in socialising "Strenna 2012" and the main theme for this first year of the Bicentenary preparation. You have lots of media at your disposition in each Province to do this, but just need to keep an eye on creativity, getting people involved, firing up passion for the salvation of the young.

Along with all the members of the Department I wish you a happy Feast of St Francis of Sales and of Don Bosco.
Best wishes to all,
Fr Filiberto González, Councillor for SC

In his 2011 World Communications Day Message, Pope Benedict XVI said:
"just as the Industrial Revolution in its day brought about a profound transformation in society by the modifications it introduced into the cycles of production and the lives of workers, so today the radical changes taking place in communications are guiding significant cultural and social developments.
This means of spreading information and knowledge is giving birth to a new way of learning and thinking, with unprecedented opportunities for establishing relationships and building fellowship"
There should be no surprise then that the Salesian Congregation has opted for a bold decision, assuming that without good communication, good education will not be possible, nor the New Evangelization that Salesians are committed to, since this a dimension running across all of Project Europe.
The decision involved the re-publication of the Salesian Social Communication System document, describing a new way of conceiving of communication, emphasising the following aspects: "Communication is not simply information".
"Authentic communication requires genuine care and mutual dialogue".
"Communication is a form of interpersonal relationship".
"When we communicate, it is not limited to passing on messages, but we establish relationships".
"Communication is not a way of expressing something in words".
"My communication is a dimension of all my actions. Everything is communication".
"Authentic communication requires consistency".
"Although we may not have this intention, when we pass on a message we communicate something of who we are".
It is also no surprise that on Election Day a well-known journalist commented critically on the way political parties behaved, and wrote: "When will political parties understand that we are in a new century, and along with this change, the way of communicating has also changed?". Some questions:
When will I know something more about the 'new model of communication' presented in the SSCS (2011)?
Why precisely has the Salesian Congregation decided to review the classic model of Social Communication?
How do you think the adoption of this new model of communication will impinge on educational and evangelising activity which characterises the Salesian mission?
Fr Francesc Riu, sdb, Barcelona

Entering the complex stuff of life that is today's digital continent requires awareness, clarity and a thirst for appropriate knowledge on our part. Our Social Communication department is certainly working at this and can already offer confreres and lay partners interesting reflections and in some cases precise technical advice. None of it is advice for advice' sake, nor technology for the sake of technology.
The Social Communication sector is working hand in hand with the Youth Ministry, Formation, Missions sectors as represented by their respective departments, on behalf of the charism and the common mission. Together they are helping us to inculturate, propose and spread a faith perspective based on our Father Don Bosco's vision, in a rapidly changing world.
Summing up: the Congregation is committed through education and anticipation to give a voice back to the young, to help them to find themselves, and to accompany them with patience and trust as they build their own lives, and to offer the means to gain a livelihood; but at the same time, we are committed to offering them a way of relating to God they will find suitable for them. And we want to do this living in their world and speaking their language, walking side by side with them, not only as those for who we primarily work but above all as travelling companions. Or does the fact have nothing say to us that we came into existence as a Congregation, on far off 18 December 1859 among a group of youngsters, to be exact with 16 of them, adolescents between 15 and 21 years of age, who having experienced the effect on their own lives of being rescued and helped by Don Bosco, wanted to take part in his mission, taking on a role of major protagonists?
To recreate the Salesian charism in the most varied situations in which we find opurselves, it is not enough to adapt it to the different circumstances of young people; much rather, it is necessary to invest in the young, helping them to become the protagonists, the trusted co-workers without ever forgetting that they are the very reason for our consecration to God and for our mission. 
P. Chávez

The new year 2012 is already moving on. Christmas and New Year greetings have already been shelved. As for each other month, the 11th is the day Cagliero11 is sent out, so January 11 2012 sees the third birthday of the monthly mission animation bulletin here!
Fr Vaclav Klement, Missions Councillor, who runs a Cagliero Blog as well, on sdb.org has the following to say about this production which, in some ways, is also tied to the story of the SSCSNews, so it is especially appropriate to include it here.
A BIG THANKS TO MANY FRIENDS
to all who have contributed and continue to contributing to its production
missionaries who share,
the editor who is patient and constant,
the layout master who is very creative and dedicated
and especially many of the regular translators (it, es, en, fr, pt, pl, ru, xh, ko, ja, vn, nl, hr, cs, sk, de).
Indeed, after three years of Cagliero11's life we can humbly recognize it is a success. Probably the main features of this success are:
simple,
colourful,
regular
15 languages reaching out to Salesian confreres and lay members of the SF.
Cagliero11 has became part of some Provincial directories, is becoming a part of daily life in the communities (attached to the refrigerator in the community or dining room), is incorporated into Vespers on the 11th in many formation houses, reprinted by Salesian Bulletins, Provincial Newsletters or simply sent monthly by the Provincial secretary to all communities.
THE VIRTOUS CIRCLE
of living missionary life in simplicity and with commitment,
of sharing ones missionary experience with open heart and honesty (also doubts, temptations, moments of crisis...)
of reaching out to many Salesian communities thanks to the zeal of mission animators
of arousing mission awareness
of helping some Salesians to answer the God's call to the missions
Of course challenges remain:
We have not reached all local communities, as dreamt and desired three years ago, and as expressed in the first issue of Cagliero11 (January 2009).
We have not been able to respond to some major challenges as identified by feedback suggestions for improving it.
We need to be more on time with production: before the start of a new month; some smaller errors in translation... it's a human effort after all!
HOW CAN YOU HELP US?
Distribution is always the main challenge:
send us one more email address (cagliero11@gmail.com) for the mailing list.
help us with translation into some more languages in Asia and elsewhere.
help by printing out Cagliero in your province or community.
help by regularly using Cagliero in community prayer or formation moments.
With a grateful heart to God, who sent his Son, first missionary, for everyone who has been journeying with Cagliero11 over the past three years!