Animation - Letter from Fr Filiberto

Dear Fr Provincial,
Provincial Delegate for SC,
Formators and 'formandi':
It is with much pleasure that the Social Communication Department brings you its first Monthly Newsletter. The aim is to be closer to you to strengthen dialogue, cooperation and mutual growth in animating our service to the Congregation and the mission through Social Communication.
This Newsletter is addressed in a particular way to Provincial Delegates for SC, and to Houses of Formation, and it is structured along the lines of the Congregation's Salesian Social Communication System (SSCS). Each month you will find essential information in the various sectors of animation, formation, information and production, info that the Provincial SC Delegate should know about.
You will find links in the Newsletter which will help you broaden and deepen the information referred to according to need and possibilities. Your comments, proposals and cooperation will be gratefully received.
The entire SC Team in Rome, Salesian and lay, joins you in making the "da mihi animas, cetera tolle" in the "new playgrounds" of the mission come alive.
Warmly in Don Bosco
Fr. Filiberto González Plasencia sdb
SC General Councillor

Information: Province and Congregational level


* Provincial Newsletters (cf. SSCS 218-222) are being added slowly to SDL. Check out @temedia from ATE.
* www.sdb.org is about to undergo a makeover, and become more interactive.
* The Salesian Bulletin editors will be meeting in May: Munich for European editors, Rome for the rest of the world.
* Have you seen ANSChannel on YouTube yet?
Provincial Newsletters are not only explained in the SSCS (Salesian Social Communication System) document easily available from the [English] collection on SDL, but also in the Manual (aka - also known as - Salesian, Communicator). A phenomenon we have noted in recent times is the gorwing number of Provincial Newsletters that are being conceived both for a paper edition and a web edition. This is pleasing. Some provinces have almost entirely abandoned a paper edition. That is a choice which must be carefully thought through, since it is always important to see that no confrere is disadvantaged by this move. Usually provinces which make this choice print out several copies for such individuals.

The www.sdb.org makeover will emphasize choice and interactivity, especially from the home page. Less obvious to the user but important in terms of where the web is moving today, the site will be 'translated' from a proprietary software coding to an open source coding, and will be based on a LAMP (Linux, Apache, MySQL, PHP) approach. It will take up to a year to do the behind-the-scenes 'translation' of some 25,000 pages! Be patient.

The Salesian Bulletin meetings will be held in Munich from 10-13 May and in Rome from 17-20 May. The Munich meeting (Provincial House) is for European editors only. The rest will attend the Rome meeting (Pisana).

The ANSChannel or ANSTube is a good way for you to keep up with Salesian events.

"ANSchannel is open to all those who want to send in a video, a news item, about youth and Salesian events," – declares Fr Donato Lacedonio, the Director of ANS – " We know that there is a lot of going on and that creative activity is a great feature of the Salesian world. In particular we would like to have information about things happening in connection with the celebration of the 150th anniversary of the founding of the Salesian Congregation."


Formation features strongly in the SC Department's six year plan 2008-14.
Formation to Communication is a mindset, not a document

Nevertheless the SC Dept and the Formation Dept have produced a joint document: 'Guidelines...."

We invite you to send in 'best practice' ideas for formation to communication at any stage from initial to ongoing formation.
The recent meeting of the World Advisory Council for SC (aka Consulta) made a decision that it would 'outsource' activity on formation to SC, meaning that because the Department Team cannot do everything, interested persons would help develop an existing educational training manual known as 'Shepherds for an Information Age' online. 'Shepherds', in its English title, has been successful for those who used it (it was first developed by BOSCOM in India, but has spread far and wide around the world) but always needed a constant revision in the light of rapid developments in the field. The Consulta has set up an 'English Group' to develop the contents online and these will also be available to translation in other languages. Much of the original work is already available in Spanish, for instance.
Hence the request for 'best practice' ideas for every level of formation is very much int he light of this - to help bring together the multiform activity around the Salesian world, carried out in Centres for Formation to SC or in Formation communities, or even in school classrooms. You can help. Do not hesitate to send your ideas in any of the major languages - you can send them directly to Fr Filiberto fgonzalez@sdb.org or to his secretary Fr Julian jbfox@sdb.org.

Production: Overhaul of business enterprise management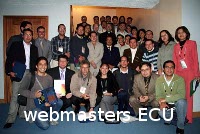 Ecuador (ECU) and the various provinces of Argentina, have been looking at the degree of cooperation and common approach possible with their business enterprises, at every level.

ECU has revised its approach to the management of all Salesian business enterprises, looking especially at a Salesian Management Board and its relationship with the manager who is almost always now a competent lay professional in the field.
ECU has produced three documents describing the background to its decisions regarding Salesian SC enterprises: The Organisation of Salesian Social Communication Works in the Province of Ecuador, Salesian Communications Enterprises Board, The Manager, Salesian Enterprises of Social communication. These are available in Spanish and English from the Department in Rome if you wish to have a copy.