El Salvador - Spreading the Salesian Social Communication System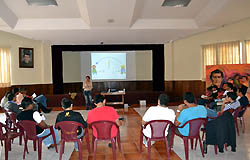 Journalist Zaida Navarrete and Fr Heriberto Herrera travelled about 1800 km within the "Divine Redeemer" Province of Central America presenting in all the houses the Salesian Social Communication System (SSCS). In good numbers Salesians, lay people and members of the various groups of the Salesian Family took part in the meetings and became involved in various communication projects.
The new edition of the Salesian Social Communication System was approved by the Rector Major, Fr Pascual Chávez Villanueva, and presented and distributed by Fr Filiberto González, General Councillor for Social Communication (SC). In response those responsible for SC accepted the task of presenting it to the Salesian, their lay co-workers and the various groups of the Salesian Family.
First they visited the houses in El Salvador: the formation houses – the Theologate, CRESCO, the post-novitiate, the pre-novitiate, then the Parish of Divine Providence, Don Bosco school, Quetzaltenango (parish, school, university) and finally the mission of Carchá (with the Don Bosco Centre, the "Talita Kumi", the Salesian Family centre and the Salesian community house).
Fr Herrera and Zaida Navarrete discovered that some communities were well acquainted with social communication ideas, while others were only starting, but doing their best to be close to the youngsters with the media resourses.
All the communities were determined to use the new media as powerful means for evangelisation and education. "This was the best result of our work," Fr Herrera said. "There are no prejudices regarding the media, rather there is a real commitment to make good use of them. But also to face to face encounters with people."
Cuba sets up SDB Comms Network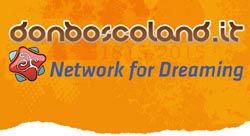 DonBoscoLand is a webpage started about 10 years ago, created and updated each day by the Salesian Youth Movement in Triveneto. Specially aimed at the young it speaks their language to perfection: in its graphics, colours, slang, the topics dealt with and the means made available.
Drawing on diverse experiences, the site appears as a multi-coloured diary of the exuberant Salesian activities of the Salesian Youth Movement in Triveneto: Vocational and Missionary Animation, Youth Ministry Congress, Youth Fest, National Civilian Service, pastoral suggestions aimed at each and every age group, theatre work-shop activities, stagecraft – technical and artistic, the publication of the magazine "Youth for Youth"... and so many others.
The section devoted to articles and various material for formation and prayer contains many things that are in effect a useful "on-line library" both for the young and for the educators. The articles are aimed at helping the young to reflect on current affairs on educational issues on topics connected with their own spiritual journeys. The Salesian section is particularly rich in contributions on Salesian spirituality, on Salesian saints and on the preventive system.
Every day the staff of DonBoscoLand make the effort to publish articles for personal or group formation, material about the world of education and of youth, with photos and videos connected with the various initiatives of the SYM and their magazine "Youth for Youth"; they also organise "off-line" activities such as conventions, retreats, meetings … and they promote the events organised or supported by the SYM; it is becoming ever more relevant and also feeds into the social networks: Youtube, Twitter and Facebook.
While it is a site addressed to a very specific audience (young people between 15-28 with a Salesian background in Triveneto), the site has had over 300,000 visitors in the last year, and they all have a dream. Of these 25% return to the site at least once a week and 12% every two days.
The Donboscoland site is the result of a form of communication with two inter-connected fundamental features: information and formation. Joined together these create a relationship between every day matters and thought, with an awareness that it is not enough to present a calendar of events unless behind it there are real ideas, and that ideas are not enough unless these come alive. The information is about the activities of the SYM planned and carried out not only in Triveneto. The formation is offered so as to provide young people and/or their educators with material suited to their own needs.
At the same time the Donboscoland communication is based on two other ideas: what is happening locally and around the Province. It is necessary to have the two linked together so that the suggestions coming from the young people in each of the Salesian centres is then promoted by those who have the responsibility of making connections between the various centres in Triveneto.
"DonBoscoLand… Network for Dreaming!" is the motto of this site which is intended to be a presence of Don Bosco in the digital continent where the young find themselves every day. So as then to make face to face contact …in the playground!
Czech Republic - In a Multimedia world - priority to people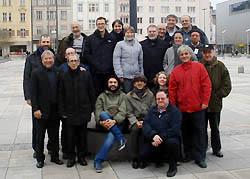 Confidence in God and in the young was the basis for the 2nd meeting of multimedia production centres in Europe, held between 8 and 11 March at Ostrava, in the Czech Republic. The Councillor for Social Communication, Fr Filiberto Gonzalez, more than once emphasised the value and the importance of people – those who work and those for whom they work – in the process of personal communication and the production of multimedia material.
The Pastoral Centre of the diocese of Ostrava-Opava and the premises of the TV Noe-Telepace hosted the 21 people taking part representing various organisations of multimedia production in Europe: Slovakia, Italy, Spain, Czech Republic, Portugal, France and Malta. Those taking part came from a variety of backgrounds being Salesians, Daughters of Mary Help of Christians, laity and young people, all engaged in different ways in communication structures.

Do you want to prepare a banner for sdb.org? You could prepare for an upcoming feast day, or the Strenna theme or other.... 570x165 px please.
SEÑORES
MEDIOS DE COMUNICACION PRESENTE.
Falleció el Coadjutor José Ruaro, fundador de la Hoja "Luz del Domingo"
El día sábado 10 de marzo del 2012, falleció en el Colegio Técnico Don Bosco de la Kennedy- Quito el coadjutor salesiano José Ruaro, fundador de la Hoja Dominical Luz del Domingo
El señor José Ruaro nació en Vicenza – Italia, el 30 de mayo de 1927 y muere a los 85 años de edad y 67 de profesión. Trabajó 14 años de librero en Italia (Valdocco, Turín y Messina) y un año en España. Fue guía por un año de las Catacumbas de San Calixto, vino al Ecuador en 1960 y estuvo un año en la Procura de las Misiones de Quito. En 1964 pasó a la Editorial Don Bosco de Cuenca hasta 1974. Aquí comenzó a imprimir la Hoja Dominical "Luz del Domingo" que, en la actualidad, es nacional con un tiraje semanas de 272.000 copias para todo el país.
En 1974 pasa a Quito, al colegio Técnico como encargado de la Imprenta "Don Bosco", donde comenzó a imprimir las revistas "Ser Familia", "Ser Joven", "Ser Niño", "Anunciar" y "Celebrar". Estas revistas comenzaron con presentación sencilla y ahora son todo a color, con presentación de lujo....
Las publicaciones fueron su vida y lo consideraba su apostolado para todos los ambientes cristianos y católicos. ...
Paz en su tumba
Sara Torres

SANTIAGO-Chile: 12-15 April, Publishers, TV/Radio Americas.
UPS-FSCS-Italy: 12 May - novices and postnovices SDB and FMA; joint meeting to discuss the Pope's Communications Day Message
LISBON-Portugal: SC Delegates 2-4 May; PE Reference Persons 4-6 May 2012. 6-8 May: Eurclip DB Group
ROME-Pisana: 16-20 May, Salesian Bulletin Editors (world)
Forward to a friend
Know someone who might be interested in this email? Why not forward it to them.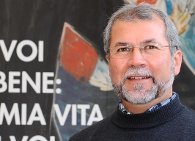 My dear confreres and friends of SC,
ANS has provided information concerning the two communications meetings that have been held in the course of this month: the Salesian Publishers, Europe,in Rome and the Multimedia Enterprises in Europe, at Ostrava, in the Czech Republic. These meetings have also served as a preparation for us for meetings on similar issues in the Americas in April.
According to one of Spain's national daily papers, El Pais, "3,500 years later, the book is going through a fifth mutation, into electronic form (after stone tablets, scrolls, the codex, the printed book as we know it from Gutenberg) and is tackling an electronic 'big bang' accompanied by a spectacular competitive scenario". The article also states that communications products have to deal with a fourfold crisis of convergence: economic, workforce, digital change, and the presence of new players in the field like Amazon".
Aware of such a globalised situation as this, we have concluded, in our meetings, that: Social Communications are at the heart of the Salesian mission and integrated into other sectors of the Province; the education and evangelisation of the young, their families, and of teachers and educators are the reason for our decisions and actions; we will overcome individualism, regionalism and fragmentation through collaboration, teamwork and unity; we will survive if we invest in formation and updating Salesian and lay personnel; we will confront the crisis with intelligence and hope as an opportunity and not just as a threat; we will opt for quality in our processes and products and for professionalism, transparency and solidarity in our enterprises; we will offer policies which encourage belonging, participation and promotion of the Province in its communications processes, enterprises and products.
I take this opportunity to thank the Provincials and Delegates for their positive engagement with, presence at these meetings and invite them to make the results known.
Best wishes and a promise of my prayers for each one of you.
Fr Filiberto González, Councillor for SC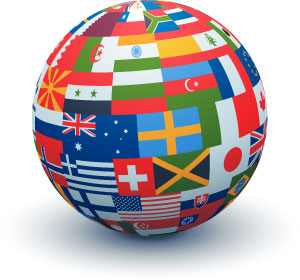 Translation, properly understood, is a special case of the arc of communication....[and] inside or between languages, human communication equals translation" . George Steiner, After Babel: Aspects of Language and Translation (Oxford University Press, 1975):

Translation is a mission and a ministry
Two prominent religious figures in today's world have promoted the idea that translation is a divine mission. The view taken by both Lammin Sanneh (Gambian born Muslim, now professor of Missions, World Christianity and history at Yale Divinity School, and a practising Catholic), and Andrew Walls (Scotland) is that the Incarnation was an act of translation, Christianity is a translated religion and has been a force for translation throughout history - most languages have grammars and dictionaries because of the work of Christian missionaries.
Anybody who knows anything about Salesian missions and missionaries around the world over 135 years knows that despite being Johnny-come-latelies in the history of Christian missions, this contribution to languages and cultures has been notable. Think north-east Indian hill tribes, the Shuar of Ecuador, Achuar of Peru, the Xavantes in Brazil, just for starters.
Thus translators be proud! Yours is a metaphor for mission, a ministry, and maybe the Congregation could tackle the issue from this perspective rather than from any day-to-day emergency one.

Translation is a professional activity
Translation is a professional activity in terms of the degree of competence, knowledge, experience it requires, as well as its need to adhere to professional standards. Almost any text which translates the Salesian charism today is an 'open' text and likely to appear in digital form. This simply reinforces the fact that our translations must adhere to standards.
Every year translators of all faiths and none, celebrate World Translators Day on 30 September. It happens to also be the Memorial of St Jerome, Patron Saint of translators.
Translation is essential to the Congregation's current emphasis...
The Rector Major, in his recent letter on inculturation (AGC411) states, quoting JPII: "there is no salvation without incarnation, nor is there incarnation without inculturation. Affirming, therefore, 'the natural missionary role of the Church means essentially bearing witness to the fact that the task of inculturation, as the total spreading of the Gospel and its subsequent translation in thought and life still continues today and constitutes the heart, the means and the scope of the new evangelisation'." This, however, in the context of a letter on inculturation of the Salesian charism.
At a practical level there is simply no doubt: key texts of the Salesian charism, the Congregation's major websites, international meetings of the Salesian Family have all required translation and interpretation services, and the need is increasing. It also runs the risk of being haphazard, stressful, and based on emergency rather than good planning.

Translators around the Salesian world
Because of the focus on missionary activity in the Congregation, there are certain regions (e.g. America South Cone, South Asia) where translation needs and responses have been prominent. There is a new awareness now in Africa-Madagascar - and in fact this latter Region is providing the bulk of French translation, in organised fashion, for the Congregation. But translation in every Region is significant and important for the inculturation of the Charism. We only get one chance to do it right.

Possible topics for translators to consider
These are not listed in particular order:

Why the 'Salesian' translator (who may be and in many cases is, a lay person) is a key player in the Congregation today
The translator as an inter-cultural mediator
Establishing a database of what has been achieved (major texts, languages) in your Region
Noting the (translation) needs of the Congregation as it prepares for the Bicentenary
What role does the translator play in preparation and reception of new missionaries (language study, preparation, experience etc)?
The difference between translation and interpretation, and skills involved
Available aids: termbases and the like
Translation in a technological era: the usefulness or otherwise of Google, machine translation, translation memory
Pooling our experience to help the Congregation and one another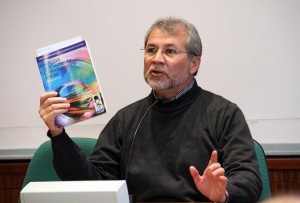 117.
The management of language resources and translation takes into consideration:
- ensuring the terminological consistency of Salesian discourse both internally and as addressed to others;
- seeing to the faithful, communicative translation of messages and communications from the Rector Major and his Council, and other bodies of animation, formation and information; 'faithful' here means fidelity to the original language and context, 'communicative' here means understandable to readers in their cultural context; promoting standards, especially in textual products of the General Administration.

118.
The DSC supports the management of the Congregation's linguistic data in collaboration with the Salesian Central Archives, through the digitisation of text, text memory (TM), etc.. The DSC offers its skills and advice to the Salesian Central Archives and others responsible for the management of linguistic data of the Congregation

119.
The DSC in collaboration with the Secretary-General and/or the Vicar of the Rector Major sees to co-ordination of the 'pool' of translators and offers support services for their task.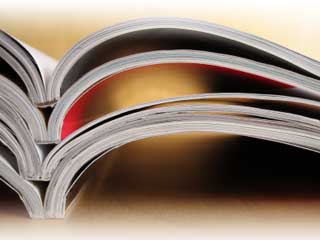 Salesian Publishers from across Europe, from St Petersburgh in Russia to Sliema in Malta, from Celbridge in Ireland to Lviv in The Ukraine, 18 in all, met in Rome at the Generalate from 1-4 March 2012 to consider how best to deal with a changing Europe, a changing global culture, and to remain in the vanguard of their profession, while undergoing inevitable restrictions due to the Euro crisis and world economic downturn generally.
It was a positive response of the Salesian Congregation based on the conviction that Don Bosco regarded publishing as a lynchpin of his efforts at education and evangelisation.
The 26 people present (including members of the Communications Department, translators) listened intensely as Dr Marco Romano, a Linked Data expert who has worked with the European Space Agency, explained the importance of each publisher linking into a European and worldwide 'Salesian' pool of public data, the result of which will be a much enhanced visibility with powerful commercial benefits.
The representatives of the Publishing Houses present agreed to enter into close cooperation amongst themselves and have set up a protected digital space within which they can explore projects together and share their forward planning. They considered issues such as piracy, and sensible proactive strategies to overcome it, and explored new digital directions (other than linked data) through ebooks and apps. Using the upcoming Don Bosco's Birth Bicentenary and the Project for Europe as particular points of common endeavour, the Publishing Houses have adopted strategies which will see them involved in a range of common products and projects towards those ends.
Fr Filiberto Gonzalez, the Social Communications General Councillor for the Congregation, listed the main challenges for Salesian Publishing worldwide today, especially the need for a change of mentality from individual effort to team effort, from regional to continental thinking. He urged them to renew human resources, aim at self-financing, transparency and solidarity, and encouraged them to move into a clear phase of technological updating along with the time of rapid development we are in. Fr Filiberto also acknowledged the importance of each publishing endeavour being part of an overall Province plan and receiving strong support from the Province.
By way of response, the representatives of the Publishing Houses present indicated that this meeting was the best they had attended thus far and gave them fresh impetus to tackle the challenges ahead.