Animation - Letter from Fr Filiberto

Dear Fr Provincial,
Province Delegate for SC:

Warm greetings; I hope that the Marian celebrations over these days have filled your life with hope, along with your calling to respond passionately to the mission entrusted you by God.
I want to continue in this Newsletter with a topic already raised, as well as offering something new. The previous month I invited you to get to know and personally study the SSCS. Now after a month of such study, I invite you to share your findings with the SC Team in order to seek and improve the way of applying and realising SSCS in each of its areas, for your own situation. Then comes the task of getting it known by others in the Province. Many Delegates have already carried out this task; others have asked the Department for more booklets while others still have downloaded it from SDL. Congrats, and thanks for your efforts.
The new topic for this letter is in reference to the Salesian Bulletin. During May we have held two meetings for Sb Editors: one in Munich, for the Europe, and the other in Rome for the rest of the world. We have seen that as part of the task of editing and improving the SB there has been considerable growth in the sense of identity, the overall aims, the contents and graphic presentation. But we find ourselves facing up to the challenge of having our provinces appreciate all this more than they do at present. and it is precisely here that I invite our Provincials, their Councils, Rectors and communities to consider the SB as a primary means of fostering the institutional image, one founded and much appreciated by Don Bosco himself. This requires a change of attitude in all of us, firstly by believing much more in ourselves, in who we are and what we do, through our presentation of who we are and our outreach via the SB; and secondly by seeing it as an investment which broadly and effectively benefits the entire Province, the Congregation and the Salesian Family; thirdly by seeing it as a wide-ranging Salesian presence requiring, like any presence, human and finacial resources to achieve its objectives. And finally, it has to find its place in the framework of the OPP and SSCS, since it belongs to the Congregation and is not some secondary element added on to other works in the Province.
I conclude by thanking you for sending your SB Editor from your province (or conference or country) to the meetings in either Munich or Rome.

Affectionately in Don Bosco:

Fr Filiberto González Plasencia sdb
General Councillor for SC
SC General Councillor

Information: How to present a Newsletter of this kind in the Province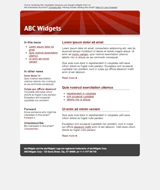 It seems that the style of this newsletter (i.e. that it is a simple email without attachments) has struck a chord with many provinces and we are receving many requests asking how we do it!.
Most email clients today (we use Thunderbird, which makes the task very easy, but Outlook or Outlook Express would allow the same), allow one to use a template which is basically an html file. A good source of such templates would be http://www.campaignmonitor.com/templates/.
You need to ensure that the images are kept in the same folder as the html file, and that they are the same dimensions as the images in your original template. Then you can alter colours, fonts etc. Of course if you understand html and css you can introduce more variation, but this is not essential.
Then read your 'help' file for your email client to find out how to work with a template. Because we use Thunderbird, which is free and open source, we can add a simple add-on called 'Stationery' (Google it) which makes the task so easy.
Certainly you should be using free templates. There is no reason to buy anything, and the result is much easier and lighter than pdf or .doc attachments.

Formation: Novitiates follow up on FOSS, semiotics, Salesian Communicator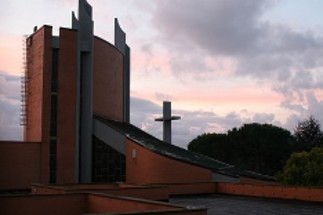 The novices from all of Italy and a number of European Provinces who are at either Pinerolo or Genzano spent an entire day at the Pisana recently (4th May) undertaking two workshops: Social Communications and an awareness of the Historical Archives.
The SC Workshop involved three parts. The first was by Fr Filiberto Gonzalez, SC Councillor, who presented the profile of the Salesian Communicator in the light of tradition and the work carried out in various provinces. Fr Julian Fox then introduced the novices to the world of FOSS, and finally Fr Donato lacedonio held a mini-workshop on semiotic analysis using the video 'World Builder' by Bruce Branit.
As part of their regular formation program the two novitiates in question include SC. The Genzano course is run by Fr Lacedonio.

Production: SB world meetings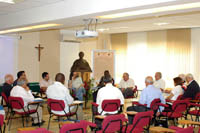 Salesian Bulletin Editors worldwide have met in either Munich or Rome in early May.
There was agreement in both groups that much has been achieved over recent years in terms of identity, quality, but both groups believed more work has to be done to ensure the SB is reaching its target, and this includes adequate research at a time when the target may be shifting in a rapidly developing situation.
The European Editors chose, amongst several final deliberations, agreed to exchange amongst themselves examples of good experiences which they can use to revitalise the Salesian mission in the various provinces of the continent. Editors meeting in Rome pledged to look seriously at offering a truly online SB that adheres to the nature of the digital medium, the Web and goes beyond a simple pdf collection of past issues.
To help both groups, the Department has set up a space on SDL available only to SB Editors where they can freely share and have access to material.