Animation - Letter from Fr Filiberto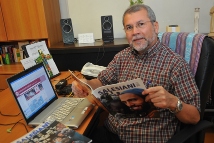 My dear confreres and friends of SC,

During November we have been engaged in the priority and ongoing task of making the SSCS known, situating and applying it within the OPP, always according to the circumstances and processes of each Province.
We were present at two meetings with the Formation Department, one in Bratislava the other in Cebu; we visited the SC Delegates and their teams in all Provinces of Italy and Spain, where it was possible to do so, and we met up with Provincials and sometimes their Councils, as well as with formators and those in formation in various houses, local Delegates, various groups of Salesians and lay people. One could say that it is becoming a normal thing for Provinces to be talking about SSCS and its updating in the new digital era.
I very much appreciate the intelligent, zealous efforts of the teams and integration of lay people carried out by each of the Provincials and their Delegates, keeping the Salesian mission as the point of departure and arrival. This way we will achieve the change of mentality required in the Congregation regarding SC, where each Salesian, lay persona and young person becomes a "communicator" of God's love, and not just a media for their own particular interests.
I am working away at encouraging teamwork amongst the sectors on behalf of the one mission, growth in dialogue and creativity to arrive at better coordination overall.
I conclude by announcing that the magazine "Salesians 2012" is being sent to each Province, and that promoting it within and beyond the Province is one of the tasks of the Delegate with his/her team, so that everyone can see the good being achieved by the Congregation for the young and the poor around the world. Thanks to everyone who has helped out with articles, photos, translations, revision, promotion and distribution. Thanks especially to Julian Fox and Hilario Seo.
Greetings from all our SC team here at the Department, Salesians and lay people who make it up.

Best wishes to all,

Fr Filiberto González, Councillor for SC

Information: Twittered ideas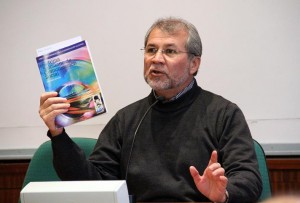 Saturday 19 November, Fr Filiberto González Plasencia, General Councillor Social Communication, addressed a group of Salesians and Salesian Cooperators. The Salesians at Deusto (SBI) hosted the event, two hours of challenging but attractive presentation. But also very clear. Here are some of the ideas as later picked up by participants in twitter, as ideas that are now 'in the cloud' and remained in their hearts:
"We have to be where young people are",
"Salesians are into communication not for ourselves or because we like it, but we are there for the young".
Reason, religion and Loving kindess are the basis of the SSCS
Four areas: animation, formation, information and production.
We need to create an ecology of communication.
And when we play ball with young people?

Filiberto: "The Mission itself necessarily involves communication".
Filiberto: "Technology is a cultural, social and pastoral field".
Filiberto told us that whoever does not love, risks nothing; without love we cannot go in search of the young.
"The medium is the message. We are the medium"
"When we are with them (youngsters), they begin to change. We have to be there in every playground, real, virtual.

The cornerstone is "where the Salesians are".

Some of the ideas that Fr Filiberto spoke of were passed on to other Salesians who were unable to be present phyiscally, but took part virtually . Interesting to note that one of the most 'twittered' ideas was:
What makes me a Salesian is God who leads me to the young.
Fr Filiberto completed his visit by meeting with the Provincial and the Social COmmu7nication Commission where they discussed the Salesian Social Communication System.
Formation: from the Rector Major's Letter 411... inculturate the charism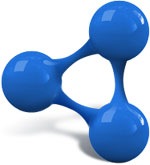 .....We cannot avoid living, or at least partly living in the digital continent today. As Manuel Castells has sagely said: "One might say, 'Why don't you leave me alone? I want no part of your Internet, of your technological civilization, of your network society. I just want to live my life'. ...If this is your position, I have bad news for you. If you do not care about the networks, the networks will care about you, anyway. For as long as you want to live in this society, at this time and in this place, you will have to deal with the network society."
Instead of being dragged unwillingly into the digital continent, we have a duty to be there effectively and efficiently. Today this means, amongst other things, taking care of meaningful structure, introducing meaningful connections into our documents and data. We can guide search technologies, for example, with documents focused more on semantic structure than how 'pretty' they might need to look, and especially with semantically prepared data. The former task belongs to every Salesian who 'tweets', emails, or writes! The latter, to those who have responsibility for the thousands of Salesian websites around the world.
This latter group is no minor cohort of the Congregation! Very few communities, centres, works are without a website. Those responsible, ultimately we hope a Salesian SDB or lay partner, play an increasingly significant role in how the charism is to be understood and inculturated in the digital continent. They can, in fact, determine how 'charism' becomes an important search word today, leading to contexts which we wish to determine rather than leaving it to the search engines to guess, and guess wrongly.
P. Chávez

to be continued

Production: Two new African products

Two recent efforts from Africa-Madagascar Region deserve a mention, as they demonstrate the growth of Salesian communications across the Region. It is not only a question of instruments such as these, a website and a province newsletter, but the emerging image of Salesian Africa and the growing involvement of Salesian communicators.
We could add to this another project which is still in its initial stages: 'Don Bosco Youth Africa'. It will be a web portal that links provinces, countries, communities and individuals in Africa. The intention is that it be by Youth, for Youth. Of course, Salesian Family members will be their mentors. Instead of multiple, province-wise fragmented websites in the region, a common youth portal is envisaged that will showcase the brand DON BOSCO and authenticate Salesian Missions spread over 42 countries. In this way, the resources, expertise and finance can be pooled together to create a synergy of Youth Services for the Integral well-being of boys and girls of Africa. While networking the entire mission activities in the region, it will address the local needs of each province and community,. The latest Content Management System and social networking concepts deployed will guarantee its relevance in the world of media. The idea, still in its initial stages, is the brainchild of Fr Augustine Sellam AFE, with support from Fr P.T. Joseph INM.