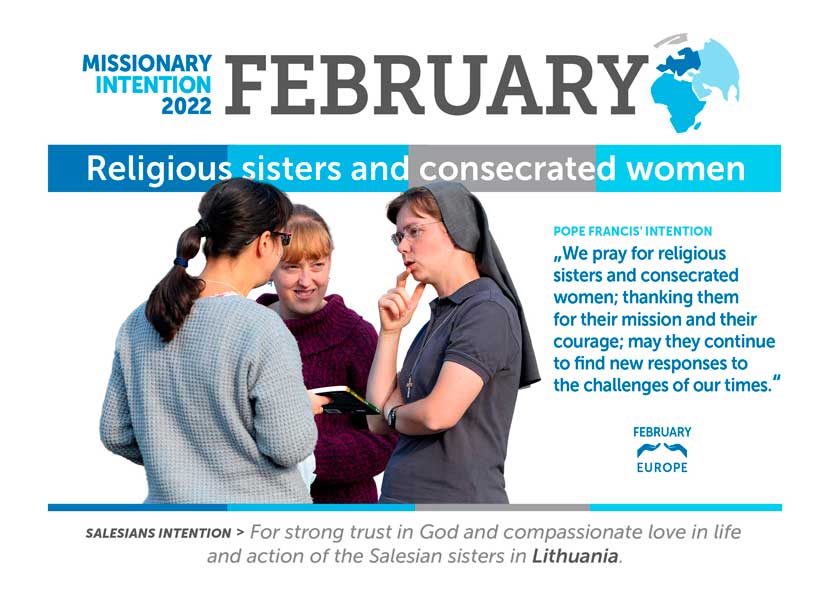 Religious sisters and consecrated women
For strong trust in God and compassionate love in life and action of the Salesian sisters in Lithuania.
We pray for religious sisters and consecrated women; thanking them for their mission and their courage; may they continue to find new responses to the challenges of our times.
[Pope Francis' prayer intention]
CAGLIERO11_158, February 2022
Dear Salesian Family,
God calls young Samuel patiently and repeatedly until he understands whose voice it is. And then he is immediately open to His demands. Immediately. Just as when Jesus calls the apostles: they (Simon and Andrew) leave their nets and follow Him. Immediately. When he feels the grace of being accepted, Zacchaeus is ready for generosity. Immediately.
The birth of a vocation is always an unforgettable moment of a personal encounter with God. Each time we return to it, it is a source of our perseverance and faithfulness. Take courage, for our experience is that our strength lies in His wisdom, love and faithfulness! In our dedication to God, we give Him all our frailty, weakness, the gifts He has given us for the journey of life; we give everything – even the future riches we are yet to discover – new relationships, talents that develop in us through various circumstances of life, the attraction of growth in ministry. Everything belongs to Him, irrevocably, joyfully. For he who gives immediately and joyfully, gives twice.
I wish all of us consecrated persons enthusiasm, fidelity and lasting creativity for the Lord.
▀ D.K., President General
Institute of Women Volunteers
of Don Bosco – VDB
Fostering Integral Human Development
Authentic development is complete or 'integral' if it promotes the cultural, economic, political, social and spiritual good of the whole person, making every person "more human" and in solidarity with the members of the human family. It is grounded in an understanding that every human is created in the image and likeness of God (Gen 1,27). This radically shifts the development paradigm from one in which aid, charity, or service, flows from the rich "givers" to the poor "recipients," to involving every person in recognising the human dignity of each and in promoting the common good and solidarity.
The Gospel enlightens us that the root of all evil is in every human heart. Thus, integral human development necessarily includes the fostering of conversion of the human mind and heart. If the inhuman inclinations of the human heart are not made wholesome even the most ideal system soon becomes inhuman. Unjust structures are fruits of personal sins and the root cause of conflicts. This awareness leads us to struggle against situations and structures which reduce the human person into sub-human conditions, particularly women, youth and children.
By becoming human Christ has united himself to every human person. Hence, the human person is the way of the Church. Thus, all the work of the Church is to promote integral human development (Benedict XVI, Caritas in Veritate, 11). However, one need not be Catholic, or Christian, or with explicit faith to foster integral human development (John Paul II, Sollicitudo Rei Socialis, 37).
In contexts where we cannot proclaim the gospel, we bear witness to our Christian faith by promoting the realisation of one's full human potential as well as respect for human dignity, solidarity and the integrity of creation. Our Salesian work to foster integral human development is inspired by a deep faith in and love for Jesus Christ. Anything less would reduce us to mere social workers or an NGO!!
▀ Fr. Alfred Maravilla, SDB
General Councillor for the Missions
THERE IS A THIRST FOR FAITH IN LITHUANIA
Sister Irute, you work with six other Salesian Sisters in Lithuania, a country with a rather weak Catholic presence. How do the Lithuanians see the Church?
I don't think Lithuania is a country with a weak Catholic presence. Of course, secularism is prevalent, as in other European countries. In spite of this, there is a thirst for faith; prayer groups of young people and adults are growing in numbers; there are new centres for spiritual retreats; days of renewal in the Holy Spirit are organised for believers as well as seekers. However, vocations to consecrated life are sadly few. We feel the need for a new evangelisation.
You, the Lithuanian FMA sisters, belong to the same province as the Czech FMA. How do communication and collaboration work between you since you come from two different cultures?
Italian is the language of communication among the sisters of the Province of Mary Immaculate in the Czech Republic and Lithuania (CEL). The Provincial visits all our houses; the provincial council has one of its annual meetings in Lithuania; we meet during the feasts of Gratitude. Among the sisters we all know each other well because we are a small province of about 35 FMA. The situation only changed with COVID-19; now we make more use of online communication.
You are responsible for the day centre for 6 to 15-year-olds in the capital of Kaunas. What is your mission, the purpose of your work?
We opened this Day Centre for at-risk children in 1996. It operates in the working-class area of Kaunas where the people face many social problems. There are many broken families. The biggest problems are alcoholism and drugs. The centre is currently attended by more than 20 children who come here after school, do their homework, eat, play and have their clothes washed. Close contact with the families of the children is very important for the work of the centre. We try to follow the path of integral education of each of these little people.
FORUM
Salesian Mission Day 2022
COMMUNICATING CHRIST TODAY
This year's theme emphasises the need and opportunities for close collaboration between the missions (proclamation) and communication (social).
The booklet, poster, prayer card and videos have been released.
The material can be found on: https://www.sdb.org/it/Dicasteri/Missioni
If you would like to translate these materials into your own languages, please inform cagliero11@sdb.org to obtain them in the editable format.