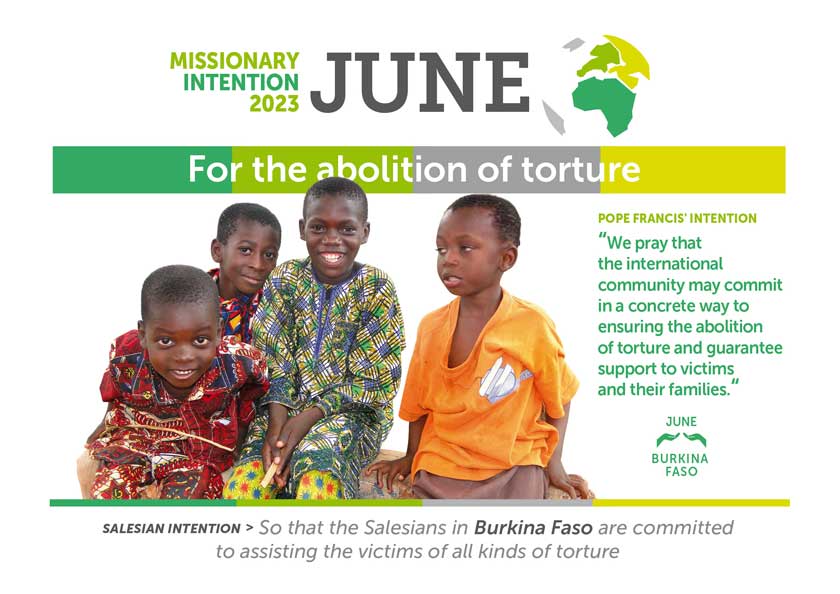 For the abolition of torture
So that the Salesians in Burkina Faso are committed to assisting the victims of all kinds of torture
We pray that the international community may commit in a concrete way to ensu-ring the abolition of torture and guarantee support to victims and their families.   
[Prayer intention of Pope Francis]
CAGLIERO11_175, JUNE 2023
Dear brothers & sisters,
as a Salesian Oblate of the Sacred Heart, I am happy to share some family news.
Our Founder often said, "You have sprung from the very Heart of Jesus." The human and pastoral charity of Monsignor Giuseppe Cognata, Salesian, Bishop of Bova (RC) was initially incarnated in the service of the small towns of Bova diocese with a missionary spirit, but soon extended to other regions. Since 14 October 1985 we have been missionaries in Bolivia, and since 2006 in Peru. Monsignor Giuseppe Cognata wanted consecrated women with a missionary spirit. Hence, all Oblate houses are called 'missions'. It is a constant reminder of this particular characteristic of our charism – to be generous missionaries, humble, and ready to face any sacrifice for the salvation of souls.
This year we shall celebrate a solemn Eucharist in the Basilica of the Sacred Heart in Rome, where 90 years ago the Bishop of Bova was consecrated, and in that same year, on 8 December 1933, the Congregation of the Salesian Oblates of the Sacred Heart was born in Pellaro (RC). Praise and thanks to the Lord and the Immaculate Virgin for having accompanied us through all these years of Oblation.
▀ Mother Graziella Maria Benghini, SOSC Superior
Salesian Oblates of the Sacred Heart
Care for Creation: Our Common Mission
Creation is God's gratuitous gift to us. Its beauty reflects the infinite beauty of our Creator. The foundation of the Social Teachings of the Church is the inherent sacredness of human life and the dignity of the human person, as created in the image and likeness of God (Gn 1:26). The respect and honour we owe to God our Creator flows to respect for life and for the dignity of every human person as well as to care for the whole of creation. Thus, we do not protect nature for its own sake. Our commitment to care for God's creation is not a concession to any ideology nor to lobby groups. Rather, it is a requirement of our Christian faith.
God created man and woman in the garden and commanded them to cultivate and take care of it (Gn 2:15). In fact, creation is not our property, nor the property of only a few, which we can exploit at will. We are mere stewards, not owners.  This implies a commitment to safeguard the environment. The serious consequences of environmental destruction affect all of us, yet the poor and vulnerable are those who suffer most. Hence, social justice is inseparable from environmental justice (LS 16, 139).
The planet is our common home regardless of religion, culture, or ethnic origin. We care for creation and use it for the common good of all humankind (GS 69). It is necessary to work together for the transformation of our social and economic structures through advocacy on environmental issues, supporting policies and initiatives at the local, regional, national, and global levels that promote ecological sustainability.
Above all, we need 'ecological conversion' which transforms our hearts and minds toward greater love of God, each other, and creation (LS 217-219). This is expressed through our small day-to-day personal actions that result in protection and renewal of the environment: resist the use-and-throw culture and opt for a simpler lifestyle, recycle, segregate waste, conserve energy, plant trees, reduce the use of plastic, use more public transport, use more solar energy, be an active member of Laudato Si Movement or of Don Bosco Green Alliance. Indeed, we cannot delay. The urgency to care for creation is now!
▀ Fr. Alfred Maravilla, SDB
General Councilor for the Missions
SALESIANS IN BURKINA: OPEN AND WELCOMING
Father Joseph, you live and work in Burkina Faso; we would like to know what you see in Salesian missionary work as beneficial for young people…
Salesians have been present in Bobo since 1993 and in Ouaga since 2009. Our missionary work in Burkina Faso covers a fairly broad field, ranging from evangelisation to training and socio-professional integration. More than 6,500 young people have passed through our centres, with a job placement rate of 49% in mechanics, hairdressing, tailoring, computer and office maintenance, weaving, industrial maintenance, metal carpentry, and electrical engineering.
What seems to you as the most interesting thing about this Salesian mission experience in a predominantly Muslim country?
If I have to point out one interesting thing about this mission that we carry out in Burkina, a country with a Muslim majority, it is the openness and welcome on both sides; we offer the same opportunities to all young people in the name of our Salesian creed; almost 60% of the beneficiaries of our works are young Muslims. In addition, since 2015, terrorism has caused a rural exodus within the country, creating new situations of poverty and precariousness. We have many internally displaced persons (IDPs) who have migrated particularly to Ouagadougou and Bobo-Dioulasso. Many of them live in our neighbourhoods. With our partners, we periodically distribute food kits and cover the school fees of some children and young people. Covid 19 was an opportunity to show solidarity in fighting the pandemic by distributing, even in mosques, sanitary kits (hand-washing basins and masks) made by our students.
How can Salesians help the victims of various types of torture?
The first attitude that Salesians must have, when faced with any victim, is the one inspired by the Good Shepherd: to be on the side of the victims, making themselves available to welcome, listen to, accompany and support each victim, in his or her particular situation. In his Strenna of 2018, Fr Ángel Fernandez Artime invited us to "cultivate the precious art of listening and accompanying". In their pastoral ministry, the Salesian Cooperators (SSCC), accompanied by the Salesians of Ouaga, have created a listening and guidance office. Young people and families find relief there. The challenge would be to set up a listening centre.