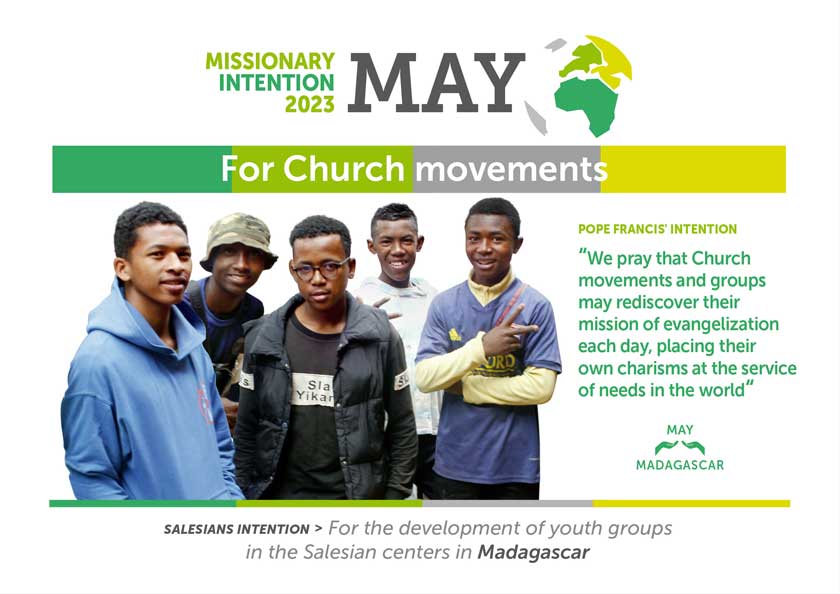 For Church movements
For the development of youth groups in the Salesian centers in Madagascar
We pray that Church movements and groups may rediscover their mission of evangelization each day, placing their own charisms at the service of needs in the world. 
[Prayer intention of Pope Francis]
CAGLIERO11_173, MAY 2023
Dear friends,
At the centenary of the Easter of Blessed Luigi Variara, his example of life and his missionary dedication encou-rage us onward on our journey! Luigi, already a Salesian seminarian, at the age of 19 asked the Blessed Virgin Help of Christians for the grace to be a missionary among the patients at the leper colony of Agua de Dios, in Colombia. Leaving his family and homeland, he dedicated himself totally to this mission. The environment was at the time very poor and hostile due to the isolation imposed on the victims of this illness. Through his generous dedication, he became a guide for sick young women or daughters of sick people, who showed signs of a religious vocation that was then "impossible to achieve". Hence, he founded the Institute of the Daughters of the Sacred Hearts of Jesus and Mary. May your example encourage us to a renewed commitment and missionary yearning!
▀ Sr. Eulalia Marín R.
Superior General, HHSSCC
Daughters of the Sacred Hearts, (Hijas Sagrados Corazones)
How to strengthen the resilience of our young people?
Following the Covid-19 pandemic, the lifestyles of young people have changed radically. They faced the introduction of quarantine, limitations on travel, and the closure of schools, Salesian oratories and meeting spaces. These restrictions resulted in a prolonged isolation of young people, leaving them physically distant from friends, teachers, relatives and loved ones. The long duration of these measures resulted in an increase in feelings of boredom, frustration, fear of being infected or of infecting others. They have had a significant impact on their psychological life, increased anxiety-related disorders and compromised their serene personal growth. However, these effects have not been homogeneous: while some suffered considerably from the situation, others showed themselves to be resilient, capable of responding positively to adverse conditions. The internal resources of our young people need to be awakened and stimulated. Resilience is nothing more than the subject's ability to achieve a fair level of adaptation, even in particularly unfavourable conditions.
As educators we are called to promote "resilience", to protect the most vulnerable youth groups who attend Salesian centres and inhabit the area, especially those who experience on their own skin the pain of migration. Although it is a characteristic of the personality of individuals, resilience can be acquired or increased through forms of educational accompaniment and specialized programmes, through empowerment and coping.
All educators and Salesians are called to develop projects and activities that promote in young people the ability to make choices, self-determination and self-regulation, particularly by encouraging social and relational skills. It is a question of increasing the ways in which children can cope with daily stressful events and acquire skills for emotional regulation. They learn to implement adaptive strategies, forms of social support that counteract emerging psychological disorders.
This is possible when internal and external resources are made available to deal with negative events. In this way, mental health greatly benefits, resulting in the ability to prevent and overcome risky behaviours (bullying, aggression, alcohol consumption, school failure, etc.) and to promote "prosocial" behaviours (civic and aid behaviours, inclusion, volunteering, etc.).
▀ Matthew Olusola Akinyemi, SDB
 Psychologist and psychotherapist in formatio
MORE THAN FORTY YEARS OF GRACE: SALESIANS IN MADAGASCAR
Fr. José Gaston, many Salesians have worked in Madagascar. Are there any confreres from Madagascar who have gone on mission? Where do they operate?
We are celebrating 40 years of Salesian presence on the big island: the first Salesian missionaries arrived in Madagascar in February 1981. Forty years of grace during which the Malagasy were able to get to know Don Bosco, his spirituality and his pedagogy which the young Malagasy appreciate a lot. Today there are more than 150 Salesians in Madagascar, and indigenous vocations are on the rise.
Our Vice Province invests heavily in the area of missionary animation. As a result, seven Malagasy confreres went on mission to various countries: Cambodia, Zambia, Venezuela, Sri Lanka, Syria, Albania, the Middle East. Even today we have confreres who feel this vocation to go on mission, to be at the service of the Church, especially for the poorest young people in the world. 
What is missionary animation in Madagascar? Are missionary groups involved?
Our missionary animation touches two areas, both within our Salesian religious community and in the Salesian Youth Movement of Madagascar (MSJM). In our Salesian houses, every month we share the Cagliero11 bulletin to sensitize the confreres to the missionary spirit. In the houses of formation, we are even more attentive to this animation to reawaken the vocation to mission in our young confreres. Within the Salesian Youth Movement, we have the Salesian Missionary Volunteer Service (VOSAMI). It is an experience offered to young people who feel within themselves a vocation to be missionaries. This activity of Missionary Volunteer Service brings the charism of Don Bosco to the dioceses of Madagascar, through sharing the spirituality of young people, particularly where the Salesians are not yet present.
What is the greatest missionary challenge for the current MDG Vice Province?
The Christian faith has been present in Madagascar for more than 150 years. Yet, it still remains a mission land. In many areas the Gospel is not yet well received due to the dominance of customs and traditions to which many are attached. We have courageous, fervent young people and yet their poverty is an obstacle for them to fully realize their dreams. Confreres in perpetual vows need also to be encouraged to deepen this missionary dimension of Salesian life.