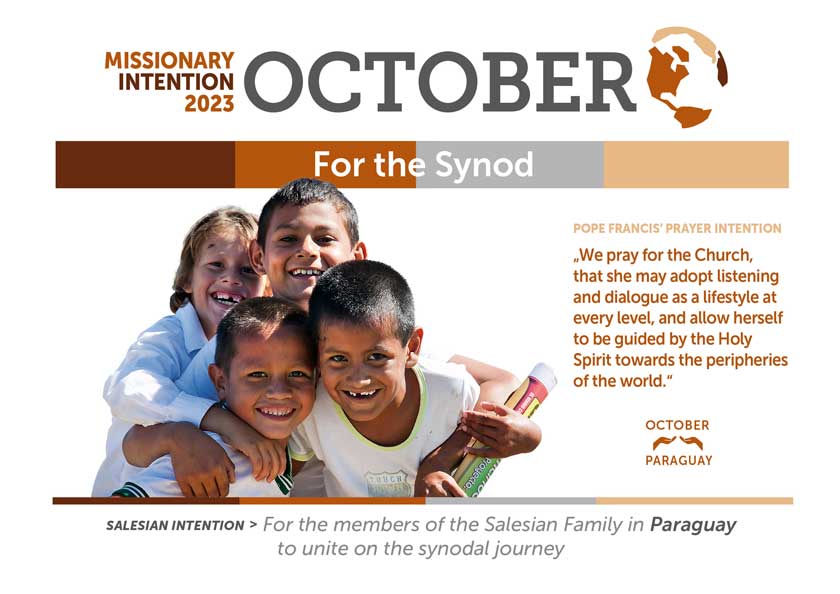 Dear friends,
Greetings of Peace from Cambodia! and while doing so, I am reminded of St. Paul's words in 1 Cor 13:4-7, "Love is patient, love is kind…love endures all things". This is usually easy when it comes to the young in our care but is relatively more tedious when it comes to ourselves, our confreres, fellow religious or our lay mission collaborators.
May Don Bosco reju-venate each of us with renewed passion for souls and unite us in love. I wish all the readers of Cagliero11, love and peace from the land of wonders.
▀ Fr. Arun Michael Charles, SDB
Regional Coordinator for Missionary Animation for East Asia Oceania Region (EAO) and PDMA for Cambodia
Missionary Resource Mobilisation
Whether people have much or little, all are able to experience the joy and fulfilment of contributing from their simple personal, material, and spiritual resources. They willingly make their resources available to us in the form of stories, photos, short videos, progress monitoring, impact evaluation, accountability and transparency because they trust that we will use these responsibly.
The resources for our missionary activities cannot be reduced to money for these are bigger than money. It is necessary to move from 'fundraising' to 'resource mobilisation'. Missionary resource mobilisation is the opposite of begging. It is proclaiming what we believe in by offering people the opportunity to be involved with us in our amazing and exciting vision, and inviting them to collaborate meaningfully in a variety of ways in our missionary work.
By inviting people to make a concrete gesture to alleviate poverty, and proclaim the gospel - using their time, talent, and treasure - they become part of something bigger than themselves. This brings an inspiring vision to their life and offers them a new sense of fraternity.
However, if a spiritual perspective is missing, then resource mobilisation becomes a business or a mere agency for the collection and distribution of funds for the needy. Instead, true missionary resource mobilisation is grounded in prayer and undertaken in gratitude. Prayer uncovers the hidden motives of those who have resources and those who seek to mobilise resources. Prayer deepens one's awareness of God's goodness; that makes the spirit of gratitude grow within the person's heart. By offering their resources, people come closer to God and grow in their sense of belonging to our wider human family. 
On the other side, those who seek to mobilise resources are challenged to better manage or use their existing resources as well as examine if their security is totally in God and his providence. Indeed, only when one is free from attachment to resources can one freely ask others to share their resources; only then will they want to be accountable for what is received.
In the Salesian Society there are four Mission Offices set up by the Rector Major (at New Rochelle, Madrid, Turin and Bonn) to mobilise resources for the support of the missionary activities of the whole Congregation. Many Provinces too have set up their own provincial mission offices (Reg 24). Indeed, priority ought to be given to mobilising local resources. Ultimately, missionary resource mobilisation is meant to foster Don Bosco's missionary spirit. Hence, it should be assured that resources are allocated to support activities of evangelisation, formation as well as to activities that promote and foster missionary animation in every local educative pastoral community and in each Province.
▀ Fr. Alfred Maravilla, SDB, General Councillor for the Missions
JESUIT AND SALESIAN MISSIONS IN PARAGUAY
The Jesuit missions among the Guaraní were a type of settlement for the Guaraní people ("Indians" or "Indios") in an area straddling the borders of present-day Argentina, Brazil and Paraguay (the triple frontier). The missions were established by the Jesuit Order of the Catholic Church early in the 17th century and ended in the late 18th century after the expulsion of the Jesuit order from the Americas. The missions have been called an experiment in "socialist theocracy" or a rare example of "benign colonialism".
Salesian missionaries have been working in Paraguay since 1896, beginning their work in the capital Asunción, near the port on the Paraguay River. There, they established a church and launched educational programmes focusing on the arts and trades that help advance the skills and knowledge of the indigenous people.
The Paraguayan Parliament honoured Salesian Father Joseph Zanardini in recognition of the educational programme Salesian missionaries brought to the indigenous people in the Chaco region. He prepares new programmes for indigenous schools based on local needs.
According to UNICEF, almost 23% of Paraguay's population of 6.5 million people lives in poverty earning less than $1 per day. The gap between the small upper class and the large lower class is extreme and offers virtually no upward social mobility.
Through educational programmes, Salesian missionaries focus on increasing the capacity of indigenous communities. As of today, close to 500 indigenous schools in Paraguay receive State support to educate some 25,000 students. These schools are made possible by the hard work and dedication of 1,500 teachers, most of whom are also indigenous.
Source: Wikipedia, Salesians Missions