Cagliero11 and Salesian Missionary Intention - April 2021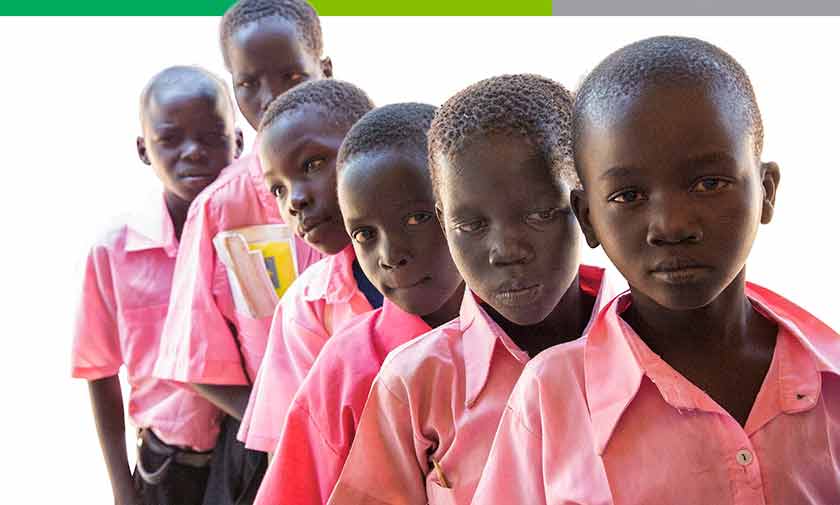 Cagliero11

SALESIAN MISSIONARY INTENTION
IN HE LIGHT OF THE HOLY FATHER'S PRAYER INTENTION
Fundamental rights
For Salesians, lay people, and volunteers working for human rights in Sud Sudan.
We pray for those who risk their lives while fighting for fundamental rights under dictatorships, authoritarian regimes and even in democracies in crisis.
---
CAGLIERO11_148, APRIL 2021
Dear confreres and friends,
We are already in the Easter mood: the Easter of the Saviour and the Easter of those who have been experiencing a Good Friday that never seems to end.
In South Sudan and in various other parts of the world, millions of children, women and men carry their crosses with courage and hope, alongside Jesus. Our mission makes our "Easter" vocation shine, the vocation to be a Veronica or a Simon of Cyrene today, or an apostle of the Victory of Christ, and an imitator of the disciples of Emmaus, pilgrims capable of reaching out to discouraged or lost brothers and sisters, rekindling in them the flame of true witnessing through the Word and the breaking of the Bread.
Happy Easter to you all!
Fr Alphonse Owoudou, SDB
Regional Councillor for Africa-Madagascar
UNDERSTANDING MISSIO INTER GENTES
After Vatican II, unease grew in Asia – a land of ancient religions, rich cultures and myriads of poor people – about missio ad gentes. It was perceived as an insensitive monologue that created a relationship of teacher-pupil, foreign missionary-local people. Christianity is still considered 'foreign' in Asia, even though Jesus was born in this continent! A growing number of missionaries working now on their own continent, in Africa as in Asia, have breathed multiculturalism and interculturalism from birth. They have direct personal experience of the poorest contexts since childhood. Their missionary activity, seen less as a direct proclamation of the Gospel and more as the incarnation of the teachings and person of Jesus through the witness of love and service, is called missio inter gentes.
The missio ad gentes is not in opposition to but complementary to missio inter gentes. It is a way of proclaiming Christ by living the evangelical values. The charitable activities of individual Christians and the entire ecclesial community reincarnate the image of Christ. It is a missionary approach that sees the 'gentes' not as targets of our efforts to convert, but as 'guests' to whom we can offer hospitality, and 'hosts' who can, in turn, welcome us and offer us friendship. This is not a silent, wordless witness. The Gospel is shared by recounting one's own experience of faith among ('inter') friends of other cultures and religions and by whispering the Gospel at opportune and unexpected moments.
The main objective of missio inter gentes is to promote initial proclamation and not to teach Christological doctrines or to convert. Conversion is God's work, not ours! It advocates that missionaries serve people with respect, and humbly share their lives without any trace of arrogance or superiority, just as Jesus did. It is this lived experience of Christianity, through the action of the Spirit, that could arouse the desire to know the person of Jesus.
Fr Alfred Maravilla, SDB
Missions Councillor
FOR REFLECTION AND SHARING
How do I whisper the Gospel to the young people entrusted to me?
How can my Salesian presence become an initial proclamation?
DISCOVERING ONESELF IN DEPTH
What was the point in leaving Portugal to be a volunteer for a year in Angola?
This experience allowed me to live a completely different sort of life. I didn't know where I was going, what I was going to do; I only knew that I was going to be working without being paid for it! I wanted to understand better the purpose of my existence in this world. Before I went, I told myself that I would do "whatever it takes". This led me to ask for the job I hated the most in life – manage computer networks; and my year of mission life was simply INCREDIBLE.
I would, therefore, say that the starting point is to be able to live in a completely different way, to be open to others, to serve and to discover yourself in depth.
What did you discover about yourself? Does your experience of volunteering help you today in your work as a teacher?
Well, I discovered a whole new world. I lived in one of the most dangerous slums in Angola. I tasted the difficulties, needs and joys of those people. I went to a school to teach street children. This made me see life from a completely different perspective.
Does it help me today as a teacher? I would say, more than that... I understand now that each of my students has a life story that deserves to have its space; that school is not just a place to learn things, but to learn to be. This new post-mission perspective makes me as open to those entrusted to me today in my work in Portugal as I had to be to those with whom I was in Angola as a missionary.
What was it like, living in close contact with the Salesians? What would you suggest to them?
During my time in Angola, I met members of many congregations and understood the different ways they live and serve God. At times the ways of the Salesians were strange: they seem be seriously workaholic. Eventually, I had a great example of hard work for the good of the needy, a great model of pedagogy and love for the young.
Any suggestions? Well, I don't know. Probably Salesians should spend as much energy taking care of themselves as they do of others. No one can do good without taking care of those closest to them; taking care of the community should be a duty. Secondly, it would be good to include other saints outside the Salesian family, too, in their catechesis. That is just a SUGGESTION.
Jorge (George) Fernandes
born at Ribamar da Lourinhã in Portugal, is passionate about facing new challenges and adventures.
He studied computer engineering and project management.
After 3 years working in the Czech Republic as a software developer,
he decided to go to Luanda, Angola, for one year as a Salesian missionary volunteer.
His preparation and commissioning were through the Czech Salesian association SADBA.
After his Angola experience, he returned to his hometown where he works as a teacher.
He enjoys life to the fullest: the love of his family and neighbours, the sun, and the beach.
Forum
New offers from the Missions Sector
CaglieroLIFE: A monthly one-minute video on a theme related to the intention of the month
GMS video: the official videos for Salesian Mission Day are ready.
Both videos (CaglieroLIFE and GMS), can be found in various languages on the Salesian Missions Sector channel of Youtube.
CaglieroPIX: a small quarterly poster of two A4 sheets with photos from various Salesian presences. It will be sent together with the Cagliero11 of that month.
One Father One Family: a book with some experiences of the solidarity among Salesians during COVID-19. The English version is presently available; translations into Italian and Spanish are being prepared.