8th Successor: JUAN EDMUNDO VECCHI (1931 - 2002)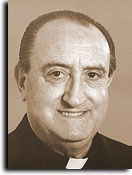 Rector Major from 1996 to 2002
Juan Edmundo Vecchi Monti, born in Viedma (Argentina) on 23 June 1931, was the seventh and last son of an Italian emigrant family who, between 1898 and 1906, had moved from Emilia Romagna to Argentina at a time when emigration to America was the dream of many Italians who wanted to find work and serenity in a foreign land, given the poverty of their homeland.
His father, Albino Vecchi from Boretto (Reggio Emilia), and his mother Maria Monti, from Montescudo (Forlì) met in Argentina and were married there.
He is the nephew of Blessed Artemides Zatti, a Salesian brother.
Juan came to know the Salesians in Viedma and decided to follow his Salesian vocation. After taking his first vows at Fortìn Mercedes, on 29 January 1947, he carried out his theological studies at Turin Crocetta where he was ordained a priest on 1 July 1958. In that same year he obtained his licentiate in theology, again in Turin.
Returning to Argentina, he was Rector in Viedma from '65 to '72.
That year, he began his long service to the Congregation as a Superior on the Generla Council (about 30 years). From 1972 to 1978 he was the Regional for Latin-Atlantic America; from 1978 to 1990 he was the General Councillor for Youth Ministry; from 1990 to 1996 he was Vicar of the Rector Major; and finally from 20 March 1996 he became the eighth successor of Don Bosco.
He will be remembered as an innovator in youth ministry but also for his remarkable gift of government, capable of welcoming and a genuine listener, taking into account the opinions, suggestions and needs of each person. He showed a strong sense of fatherliness and therefore of fidelity to the original charism of the founder and was also a competent leader who encouraged team work. He was sensitive and open to the signs of the times.
Rector Major starting from GC24, the Chapter on the laity, Fr Vecchi  always believed in them and implemented a relationship of trust and sharing with the thousands of lay people who take part in different ways in Don Bosco's mission to serve the young. His post-conciliar sensitivity, in continuity with his predecessor Fr Egidio Viganò, was also remarkable He believed in a "Church-communion" and in a "Church-mission" at the service of the poor, in a congregation embodied in all the cultures, reaching out to the poorest and the most marginalised people of every continent. But by contrast with Fr Viganò, what stood out in Fr Vecchi was the the anthropological and educational aspects rather than the theological and spiritual, although this characteristic was also strongly part of his personality (see his many letters and publications on this last area).
Fr Vecchi was undoubtedly the most solid link between a spirituality of conviction and witness and pastoral activity among the young of a consistently Salesian kind, convinced that only if one is a mystic, if one believes therefore in the One who gives spirit and identity, can one pass Christ on to the young.
Fr Vecchi always added the witness of Salesian religious and community life to this combination of spirituality and pastoral activity. Credible, spiritual communities, pastorally committed, are the fruitful expression of the love of God for young people of which the Salesians profess to be "Signs and bearers". Fr Vecchi always believed in this to the point that the main theme of GC25, which he convoked, placed the three components in close relationship: testimony of spirituality, community life, action among young people.
The eighth successor of Don Bosco was also a man of communication, a pastoral area in which he strongly believed and to which he gave a strong impulse. In the program of his six-year term as Major Rector, the dimension of communication crossed all areas and saw, among other things, the renewal and revival of the 52 editions of the Salesian Bulletin.
He was a great worker, a man of faith, a faithful mirror of the charismatic understanding of Christ that the Holy Spirit entrusted to Don Bosco. A man of listening, attentive to modern culture, he believed in the possibility of the encounter between faith and culture, secularism and a religious sense. He had a strong ability to grasp the core of issues, but was respectful of other people's points of view,, He was a leader with clear, open and shared ideas, able to optimistically define new horizons and give impetus to an established project.