9th Successor: PASCUAL CHÁVEZ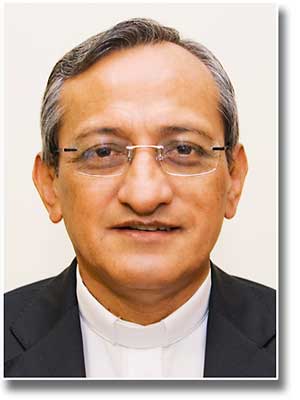 Resources, Letters
Fr Chávez is a Mexican, born in Real de Catorce (San Luis de Potosì), a mining area in the heart of northern Mexico, on 19 December  1947. After a few years, the family moved to Saltillo (state of Coahuila) where Pascual attended the "Colegio Mexico" Salesian school; it was here that he discovered hisvocation and where his intention to follow Don Bosco matured. He made his first profession in August 1964 in Coacalco and in August 1970 he became a Salesian with perpetual vows in Guadalajara. He was ordained a deacon on 10 March 1973 still in Guadalajara,  then in  "Perla Tapatia", the capital of the state of Jalisco, on 8 December 1973, he was ordained a priest. He spent the first years of his priestly ministry in the community of young Salesians in formation in Chapalita (Guadalajara). From 1975 to 1977 he studied in Rome at the Biblical Institute where he obtained a licentiate in Sacred Scripture.
He was Rector of the Theological Institute of San Pedro Tlaquepaque from 1980 to 1988 where he taught Sacred Scripture. From 1986 to 1989 he was also a Provincial Councillor of the province of Mexico-Guadalajara. From 1989 to 1994 he was the Provincial of the same province that included all of northern Mexico as far as the United States. In 1995 he began his doctorate in Biblical Theology and lived in Madrid-Carabanchel where he remained until he obtained his degree at the Pontifical University of Salamanca (Spain). In 1996, during  GC24, he received a telephone call from the then Rector Major, Fr Vecchi, who proposed that he become Regional Councillor for the Interamerica region, although he was not a member by right of that Chapter. Once he accepted the request, he then moved the General House in Rome.
In addition to GC25, Fr. Chavez also participated in GC23 in 1990, for which he worked as a member of the precapitular commission.
While Fr Chavez's mother tongue is Spanish, he also speaks English and Italian correctly, along with some German, French and Hebrew. In addition to possessing ecclesiastical titles, Fr Chavez has teaching qualifications. Both have made him a concretely spiritual man.
Fr Chavez has been an intelligent and mentally organised person, a man of dialogue, who tackles problems immediately by grasping the root issues.  A tenacious and persevering approach involves the parties concerned and addresses possible solutions. He can be warm and sympathetic without falling into paternalism.
After concluding his mandate as Rector Major at the 27th General Chapter, Fr Chavez has been available to Salesian Provinces around the world and is in much demand as a Retreat preacher.