2nd Successor: PAUL ALBERA (1844 - 1921)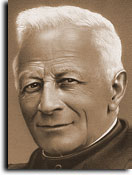 Rector Major from 1910 to 1921.
Paul Albera was the second successor of Don Bosco, something the saint of Valdocco himself had predicted. Elected Rector Major on the death of Fr Michael Rua (1910) he devoted himself particularly to the spiritual formation of the members of the Salesian Society, drawing up admirable guidelines for interior life. At the same time he showed similar concern for the social arena, wanting the work of education to continue beyond schooling through closer ties of subsequent cooperation; he encouraged Congresses of Past Pupils and Cooperators for specific purposes: to establish bonds of fellowship that would increase the fruits of the "education received" and facilitate mutual aid; that would spread the Christian spirit in the family,  society in general and above all among the young; that would promote and implement, finally, private and public initiatives aimed at supporting and defending the many welfare and religious and social security works that had come into existence in the name of Don Bosco. This program proved very effective during the First World War, when it became necessary to organise wide-ranging works of charity and welfare in the warring nations.