5th Successor: RENATO ZIGGIOTTI (1892 - 1983)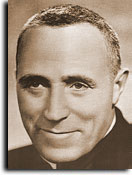 Rector Major from 1952 to 1965.
Renato Ziggiotti rose to the top after some genuine "apprenticeship" experiences, having been a military man and then a teacher and youth worker. After the experiences as General Councillor and Vicar, he guided the congregation in the difficult post-war years, spurring it to unity in fervent spiritual life and in the charism of Don Bosco.
Fr Ziggiotti was the first Salesian Rector Major who, "after the generation that grew up in the immediate school of the founder, Don Bosco," considered it "a duty to re-enter the ranks" after an exceptional service.
His post-war time as Rector Major was marked – in addition to the normal governing activities – by an extraordinary world tour that brought the Superior into direct contact with the reality of the Congregation, introduced him to all the confreres, and gave him the opportunity to confirm and encourage bold planning,  He urged Salesians above all to reconstruct unity in community, in the spirit – a unity that the ravages of war had undermined through years of separation and segregation.
He was able to rebuild in a democratic, almost celebratory fashion, but one that was no less effective for that. If he had the gift of command that echoed his military "origins", behind it lay a great sense of interiority. God and the Church was his life, as were Our Lady and Don Bosco. Consequently he lived for his confreres and their mission. So little did he care about himself that after the Second Vatican Council – in which he took part with the mind and heart of a true son of the Church –  he resigned as superior and retired to more humble offices, first as Rector of the Sanctuary of Don Bosco at Colle dei Becchi and then in Albaré, in his beloved Veneto, until his death.