Letter of the young people to GC28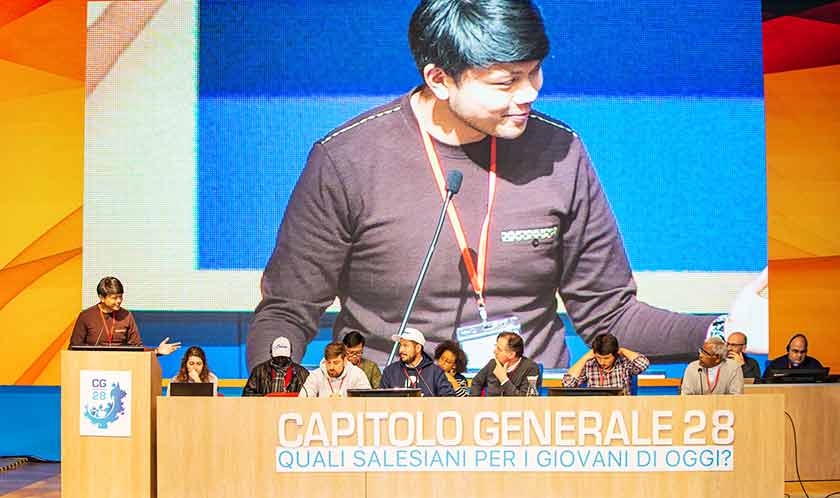 Dear Salesian fathers, teachers and friends,
We are writing this letter from the heart. We have spent this week at the 28th General Chapter listening, discerning and taking part in the discussion on what kind of Salesian for today's young people. We know we are not perfect, therefore we do not claim this perfection. We beg you to understand this letter as if it is a son or a daughter writing to their father to tell him how things are and how they feel. As a group we have focused on two questions. What follows is the result of our work.
What is the current state of young people today in our respective regions?
The world in which we live is a complex one, and it presents significant challenges. There is a difficulty in remaining authentic, and that is why we are afraid, confused, frustrated and need to be loved. Living a life of faith requires us to walk the paths of the Gospel, but the secular culture challenges us to live differently. This contrast presents a difficulty for being rooted in faith.
As a result of our fear, ours is a hard struggle. One of the most common questions we ask ourselves is: "What do I do with my life?" This can be seen when we reflect on our vocation. The pressure for success can cause uncertainty and does not allow us to achieve true happiness. The reality we experience is one of unemployment, abandonment of academic institutions, lack of motivation with studies.
We believe that our society is individualistic and that we, too, are often individualistic. Because we do not feel loved by society, we take refuge behind masks and escape human contact. We do not want you to think that we are not interested in the world around us, but it is difficult in our fluid and sometimes dehumanized society to selflessly engage in what the other needs. But you still have the capacity to awaken the Christian vocation for our neighbour in us young people, and that can transform our life and the world around us, just as Don Bosco did with Michael Magone.
We are critical, and we want the Church to take a position with us on issues that concern us. We feel uncomfortable and often do not understand what the Church says and does on issues of gender, women, sexual diversity, sustainable ecology. In addition, we consider the conversation about cognitive, social and emotional well-being and climate change that the Church hesitates to talk about, to be something normal. This is not just a claim by youth, but a demand of the Gospel.
However, with our challenges we find that we are more dynamic than ever, in tune with trends, which include the digital world, and we are creative and ready to explore, but we want to be accompanied in a holistic way (mind, body, soul).
For us, being young is a state of heart and is not defined by our age. We want to be, as the Pope says in Christus Vivit, 34 years old, capable of returning to the first love that is Christ through being companions and friends of young people. Our search for spiritual and personal fulfilment worries us. We want to journey towards spiritual and personal growth and we want to do it with you Salesians.
How do we want the Salesians of today to deal with the different realities of young people?
We have succeeded in getting our hearts and our dreams to follow the same rhythm. You Salesian have given us the opportunity to connect with you, and we want you with us. You have done it with your Salesian style. Being with us, side by side, has allowed us to be protagonists.
We understand that the Salesians are parents who accompany us. We would like you to guide us, in our situation, with love. A love that does not tell us what to say, a love that does not impose on us what we must do, a love that offers us opportunities that help us grow in spirituality and transform our lives. We want you to live in our world, in the same way that we want our family to be part of every aspect of our daily life, and this includes both physical and digital reality.
We want you to enable us to be leaders in the transformation of the Church together. We believe in empowering women in the Church. We believe that it is impossible to grow as Salesians without the role of women in our lives. Take for example the significant contribution of Margaret Occhiena as a mother in the oratory. We believe that women can collaborate with the Salesians to learn to accompany all young people in an appropriate and effective way. We believe that Salesians should practise a culture of inclusion. We believe that Salesians should take the initiative to learn to work effectively for all young people regardless of preference (LGBTQ+, race, migrants, indigenous, ethnicity, religion). We want an integral accompaniment of each person in their context.
We believe that a continuous and genuine experience of accompaniment is necessary. We believe that the Salesians themselves need accompaniment and we are here to do so with you. We believe that this kind of experience and encounter is beneficial for the whole Salesian Family. We support Pope Francis in his Apostolic Exhortation Christus Vivit nos 242-245 when he makes direct reference to the importance of accompaniment.
It is very important for us that the Salesians return to their roots to be present outside their administrative roles and to be with young people in all contexts. We remind you that you are not limited to your role or position in your community.
However, we believe that it is crucial for the Salesians to have clear boundaries. As young people, we have been and continue to be concerned about the scandals of abuse in the Church. Salesians, be leaders in this area and take the initiative to protect your youth.
It is vital for our growth that spiritual development continues to take place. As we go through our journey of life, we would like to express our desire to be at God's service with the Salesian charism. We ask the Salesians to involve us in an essential and important decision-making process. We are complementary to the mission, not a separate part of the mission.
Salesians, do not forget us young people because we have not forgotten you and the charism you have taught us! We want to express this with all our hearts. Being here, we have fulfilled a dream – in this special place in Valdocco, where the Salesian mission began, bringing together Salesians and young people for the Salesian mission with our desire to be saints together. You have our heart in your hands. You must take care of your precious treasure. Please do not forget us and continue to listen to us.