THE RECTOR MAJOR'S CLOSING ADDRESS TO GC28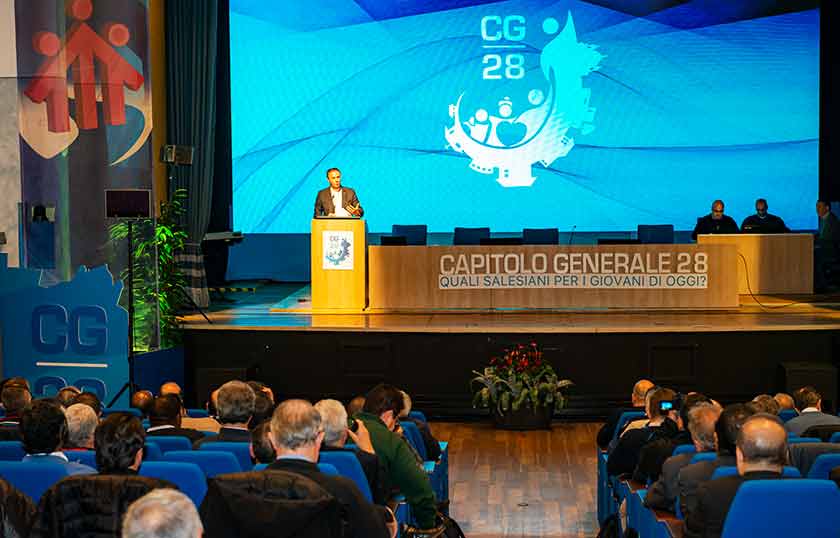 My dear confreres,
Do you not think that God has really spoken to us, and extensively so, over these four weeks, even though, due to the early closure of our work because of the coronavirus pandemic, we have not arrived at a voted and approved Chapter document?
Thinking back over this General Chapter of ours, don't you think that God spoke to us by having us feel the presence of Don Bosco, our beloved father? Do you not believe that God spoke to us through the beautiful experience of fraternity that we have had?
The answer to these questions, that I posed to myself before I put them to you, is a convinced yes!
The gifts of the Chapter
Dear confreres, I believe we are all in agreement in recognising the beauty of our fraternity, our fellowship, and the joy of encountering our brother just as he is. This is not the result of some strategy. It is the fruit of the Spirit, a mature expression of the Congregation and the commitment of those who have responsibility for the government and animation of the Provinces.
Let me ask you again: do you not believe that God has spoken to us so much through the atmosphere of faith and the honesty with which discernment and voting occurred? I say yes. Do you not believe that the Lord has spoken to us through the extraordinary protection of Mary Help of Christians? I say yes. God spoke to us very much at this General Chapter, even though we could not complete the journey required to arrive at a document to be submitted for the final approval of the assembly.
Dear confreres, do not let disappointment prevail in your hearts just because you are returning to the provinces without having completed the work of the Chapter. I believe that this "failure" is not the most essential thing. We are not leaving empty-handed: we carry with us the reflections we have shared over these weeks and that we have distilled in a first draft, handed over to the Rector Major and the General Council. Besides, we have the magisterium of the Congregation up until today, in particular that of GC24 which was especially on the topic of the mission shared between Salesians and the laity. And finally, we have received the very beautiful and agenda-setting Message of the Holy Father to GC28.
These are the things that allow us to broaden our perspective on the reality that awaits us, with serenity and great trust.
Looking to the future: objectives and challenges
The second part of my reflection, a very brief one, seeks to be a glimpse into the future.
Let me start by telling you that I was very impressed by a thank you I received last night, just before entering the Basilica to pray.
A Chapter member from Eastern Europe came up to me and said: "Dear Rector Major, I want to thank you for making possible the recovery of these Salesian Holy Places... And I would like to tell you that we need help with our identity: don't leave us alone." I replied: "I would like to thank you too; however, much of this recovery is the fruit of the previous General Chapter, with its deliberation, which for many reasons I consider to be prophetic, to renew and strengthen the Salesian Holy Places, the heart of our charism.. Afterwards, some of us have been able to do something to implement this deliberation."
Speaking of the Salesian places, dear confreres, in my opinion the most beautiful thing you can do is this: go back to the Provinces and tell all the confreres that everyone's home is here. These places are the places of our charismatic dream, the cradle where all Salesians around the world were born, because this is where the charism was born. These are the places everyone can turn to, because all Salesians have the right to experience the emotion of being here in Valdocco at least once in their lives. I warmly thank the Piedmont Provincial, who provides for the custody of these places. I have promised and I continue to promise him and the ICP, that we will not leave them alone in taking care of this extraordinary patrimony that belongs to the entire Congregation.
Returning to yesterday evening's exchange, I then told the confrere: "I promise you that we will not leave you alone in your journey of identity."
This is the first objective, the first challenge that lies before us: growing together, in all the Provinces, in all the Regions, in our charismatic identity, in our Salesian identity and spirituality. We all need this, some Provinces and some Regions in particular. Let us be careful: the fact of having new Salesian professions is not, in itself, a guarantee of strong identity. Salesian identity must be ensured through specific attention and greater care. In recent years we have clearly seen that in certain cases, small or greater difficulties of the confreres depend to a large extent on a lack of identity, as I said in the initial report. I am convinced that in the programme of animation and governance for the next six years this will be a priority: to guarantee charismatic identity in all Salesians. As I said, it is not enough to make our first profession to say "I have full Salesian identity". It is a journey, at times a very demanding one; but it is a fascinating challenge that gives so much beauty and strength to our Congregation.


A second challenge for the six year programme: returning to Don Bosco, as Fr Pascual Chávez urged us during his time as Rector Major. We must return more and more to Don Bosco, and this means: loving the young. They themselves have asked of us that they be loved. Consequently, as Salesians we are all called to be present in the midst of the young. It is what I call the "Salesian sacrament" of presence, an expression I consider to be intuitive. It is an essential "sacrament" for making a journey with youngsters and older youth, letting them know that God loves them, that truly "God is love" (1 Jn 4:8). For us and for them. Only this way can we really be evangelizers of the young. This, I believe, is the significance of "returning more and more to Don Bosco". Today it is both a task and a challenge, even though we are not starting from zero.


A third challenge is to form Salesians as Don Bosco would do today. Dear confreres, Chapter members, I am convinced that formation, not just any clerical formation, but good Salesian formation, is a priority. This is why the commitment to continue to form formators is also a priority. We must take greater care of the teams in our formation houses, so they will be truly Salesian and not elitist: this attention will be the guarantee of an authentically Salesian future. No genericism: all our formative commitment must be marked by the true Salesian spirit. This third challenge involves all Salesian formation, be it ongoing, and in a particular way initial formation.


A fourth challenge: I dream that today, saying "Salesians of Don Bosco" means consecrated "crazies", that is, Salesians who love with a true Salesian heart, who are perhaps even "a little crazy", oriented towards the poorest. Dear confreres, if we distance ourselves from the poorest, this will spell the death of the Congregation. Don Bosco said this when speaking about poverty and wealth. Allow me to specify this further: if one day we were to let go of the youngsters, and the poorest of them among these, the decline of our Congregation will have begun. A Congregation which, thanks be to God, enjoys good health today, despite our frailties! Let us therefore pay attention to what I consider to be an authentic "Chapter deliberation", even if not in the proper sense, because its content is already found in our Constitutions: a radical, preferential, personal, institutional and structural option – in short, from all points of view – for the most needy, poor and excluded youngsters. It is an option that manifests itself in a special way in the defence of children and young people who are exploited and victims of all forms of abuse: from sexual abuse to violence, from injustice to abuse of power. This fourth challenge is a beautiful commitment, which we must carry in our hearts. Six years guided by this light will give us so much life.


Fifth challenge. I believe that this is the hour for generosity within the Congregation; not just with money but especially with the generosity and availability of confreres, so that we are able to open new presences. For at least three reasons: first, our work is being requested from all sides, especially in the poorest contexts; second, we can establish presences and be involved with refugees, a terrible new poverty; third, we can establish ourselves in new places of mission. Dear confreres, we all belong to God and to the one Congregation, we are all Salesians of Don Bosco for the world. I believe that in the next six years this openness of horizon will become even more a reality: with the availability of the confreres, with the generous response of the Provinces that have greater possibilities to offer resources to other Provinces, sometimes with the guidance of the Rector Major and his Council, always with an eye to universality. We are living in times that must be tackled with a renewed mentality, one that knows how to cross borders. In a world where borders are more and more in danger of closing, the prophecy of our life also consists in this: showing that there are no borders for us. The only reality we have is God, the Gospel and the mission.


A final challenge concerns the Salesian Family. Over these years we have worked well, despite the tiredness of some of the delegates for individual groups. During the Chapter we saw that the time does not yet seem ripe for taking further steps. Nevertheless, the Salesian Family, together with the reality of the shared mission with the laity, will be the point of arrival and guarantee of the Salesian mission. It cannot be just a field of action to keep some confrere busy, or to make friends. It is an essential charismatic element, much stronger today than in Don Bosco's times, because over 160 years there has been great development. For this reason I invite you to continue to believe with conviction in the Salesian Family. It does not have the same consistency in all the places where the Congregation is present. In some parts it is a beautiful reality, elsewhere we are still at the beginning. Also in this area, therefore, a great commitment awaits us.
Some brief concluding matters
Thanks to all of you for the gift of the new General Council. It is a renewal that we must welcome with an outlook of faith. I believe that one of the most beautiful fruits of this Chapter, as has always been the case, is the gift of a General Council. I am convinced that, as a Council, we will take on a profound faith perspective, the desire for a strong fidelity to the Lord and to Don Bosco, with a great capacity for planning. Everything else we can do with our abilities, our relationships and the talents of each individual. With great serenity I say thank you for the new Council.


Over these days I have been reflecting and I believe that my first commitment as Rector Major for the animation of the Provinces will be to animate the Spiritual Exercises, the Retreats for Regions or for Conferences in Regions, for Provincials and members of Provincial Councils, to transmit the fruit of GC28, a very special General Chapter, to take on the great challenges that we are identifying and that await us.


Thank you once again for the great communion that there is among us.


This is the great hope that we bear, and of which we are deeply convinced: we seek to enrich the Church with the gift of the Salesian charism for the salvation of the young.
Dear confreres, with all my heart, thank you!
Fr Ángel Fernández Artime
Rector Major