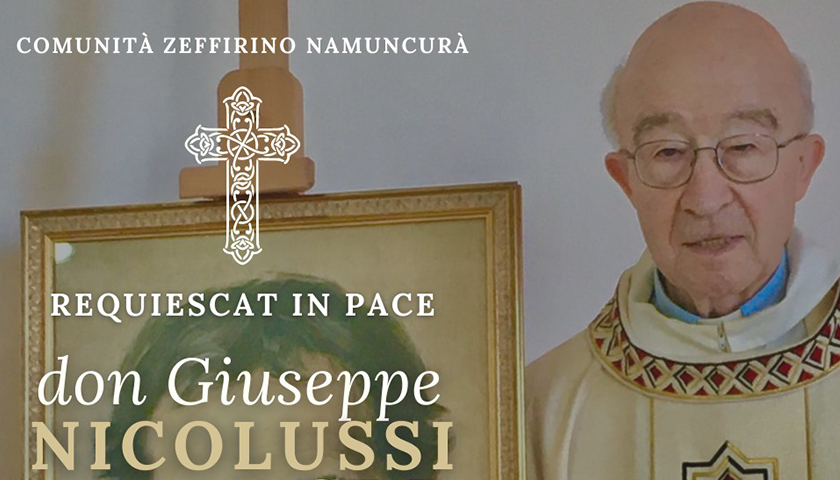 My dear confreres and sisters, everyone here. Saying goodbye to people we have loved is always a blow to our hearts. It is human, simply human, very human. But we have so many reasons for experiencing this human situation in another dimension, because due to the gift of faith in the Lord Jesus we believe, and we have certainty in God, that LIFE IN HIM awaits us, not only here but in the other life, in GOD'S LIFE.
Today we are expressing this faith in our FAREWELL TO OUR BELOVED FATHER GIUSEPPE NICOLUSSI. A great believer, a great Salesian priest, an exceptional son of Don Bosco, a great man of the Congregation.
I would like Saint Augustine's words to express this hope: "Resurrectio Domini, spes nostra – the Lord's resurrection is our hope" (Augustine, Sermo 261, 1). With these words St Augustine wanted to tell his faithful that Jesus rose for us, destined to death, so that we might not despair in thinking that with death life is totally finished; Christ rose to give us hope. Death does not have the last word because what triumphs in the end is Life. This certainty of ours is not based on simple human reasoning, but on an historical datum of faith: Jesus Christ crucified and buried, has risen with his glorious body. Jesus is risen for us too who believe in him, so that we may have eternal life. This proclamation is at the heart of the Gospel message. St Paul says it strongly: "If Christ has not been raised, our preaching is useless, and so is your faith". He then adds: "If only for this life we have hope in Christ, we are of all people most to be pitied" (1 Cor 15:14,19).
But from dawn on Easter morning a new spring of hope has invested the world; our resurrection began from that day onwards, because Easter does not simply mark a moment in history, but the beginning of a new situation: Jesus was raised not so that his memory would remain alive in his disciples' hearts, but so that He himself would be alive in us and that in Him we might taste the joy of eternal life.
The Lord's "Pasch", his "passing over", opened a "new life" between earth and Heave (cf. Heb 10:20). It is neither a myth nor a dream, not a vision nor a utopia, not a fable, but a unique and unrepeatable event: Jesus of Nazareth, son of Mary, taken down from the cross and buried on Friday evening, left the tomb victorious. At dawn on the first day after the Sabbath, Peter and John found the tomb empty. Magdalene and other women met the risen Jesus; two disciples from Emmaus also recognised him at the breaking of the bread; the Risen Lord appeared to the Apostles in the evening in the Upper Room and then to many other disciples in Galilee. This is the true mystery of our Faith.
On Easter morning everything was renewed. "Death with life contended: combat strangely ended! Life's own Champion, slain, yet lives to reign." (Easter Sequence). This is what is new! A newness that changes the life of those who accept it. This, for example, is what happened to St Paul, the Apostle who has such an attraction for so many of us. Saul of Tarsus, the fierce persecutor of Christians, met the Risen Lord on the way to Damascus and was "conquered" by Him. We know the rest. What happened to Paul was what he would later write to the Christians of Corinth.: "If anyone is in Christ a new creation has come; the old has gone, the new is here" (2 Cor 5:17).
What I have said is one way among others of declaring our firm faith in the Lord and his resurrection which will also be ours by the grace and gift of God. And this affirmation of the Lord's resurrection will always be a strong invitation not to draw back in this peaceful battle begun by Christ's Pasch. He seeks men and women who will help him affirm his victory with his own weapons, those of justice and truth, mercy, forgiveness and love.
This invitation of the Lord was faithfully accepted by our dear Fr Giuseppe Nicolussi. As we bid farewell to a confrere, I always like to recall what our Constitutions say: "Death for the Salesian is made bright by the hope of entering into the joy of the Lord. And when it happens that a Salesian dies working for souls, the Congregation has seen a great victory" (C.54). I can say today that this is true of the life of our dear Fr Nicolussi.
The Congregation is more like Don Bosco wanted it to be thanks to the gift of his Salesian life and his generous service. At the end of the Eucharist we will have the opportunity of hearing a number of testimonies of Fr Giuseppe. So I would simply like to emphasise that:
his life was a great gift for so many of us who lived with him. Fr Giuseppe was one of those people who have left a mark of their time on this earth, especially in the hearts of those who knew him closely and of so many of us who lived with him.
His witness as a man of faith, as a Salesian with a great love for Our Lady and Don Bosco, as a person with a deep spirituality has done so much good for us.
His profound and rich formation, the great gift he had to advise, enlighten the most diverse situations very much enriched his service for the good of formation and of the Congregation.
His ability to always be kind, courteous and at the same time with a refined sense of humour made us all feel good when we were with him.   
His sensitivity for the poor and the least was never hidden. Already in his years as a formator in Chile he reminded the young Salesians students of theology that "studying theology without being with poor youth is a middle class, not a Salesian way of doing things".
I will stop here, as I said awaiting the second part at the end of the Eucharist that no doubt, especially in the words of Fr Pascual Chavez, will do justice, in the simplicity of our fellowship, to this great figure, humble son of Don Bosco, Fr Nicolussi.
Let me end with the words of a song that I learnt in my early years as a Salesian in my Province of origin (Leon-Spain) that we always ang when saying goodbye to our mother, father, a confrere. This is how it goes in Spanish:
 "Despidamos todos juntos al hermano y entonemos la victoria del Señor. Entonemos la Victoria: Hasta pronto, hasta el cielo. Cristo te dé la vida y te reciba en su amistad. Cristo te dia la vita e ti riceva nella sua amicizia". (in English: Let us all say goodbye together to our brother and let us sing the victory of the Lord. Let us sing the Victory: See you soon, see you in heaven. May Christ give you life and receive you in his friendship. May Christ give you life and welcome you in his friendship).
Farewell dear Fr Giuseppe. Wait for us there with the Help of Christians, Don Bosco and the whole Salesian Family in paradise, as well as our young people. Amen.