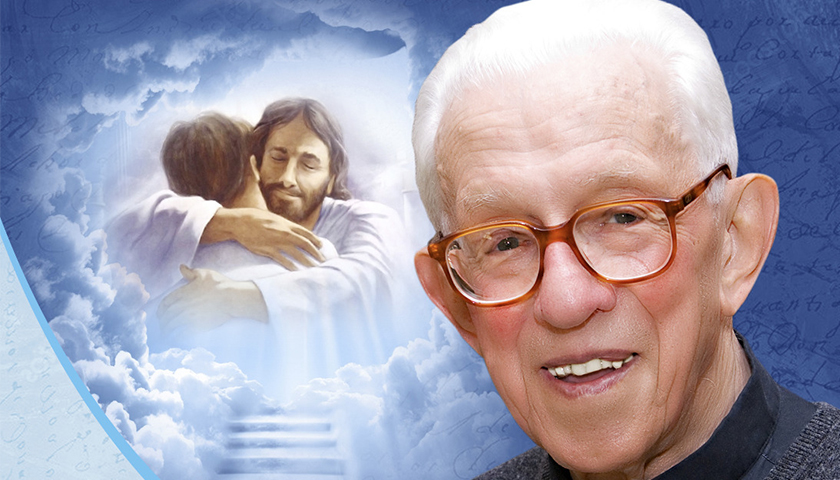 My dear friends,
today we are saying the final goodbye on earth to dear Fr Angelo Botta, a confrere from our community. After almost 97 years of life, he has gone to meet his Lord to whom like Peter, he had said 'Follow me'!
Follow me – these direct words of Christ can be seen as the ley to understanding the message of the life of our dear Fr Angelo Botta, a Salesian of Don Bosco, priest, missionary… whose remains today we place in the ground as a seed of immortality but also one of joyous hope and deep gratitude to God the Father. Young Angelo was only 14 when he asked to be sent to the missions, and so it was, when he was sent to Ecuador before finishing his novitiate. This is something rather unusual for us today.
After initial formation and priestly ordination, he spent nearly 15 years of his life at the Cristóbal Colón College in Guayaquil. A year later, in 1967, he was appointed provincial of the new Salesian province of Cuenca (Ecuador). This continued a way of being and acting that drew affection from everyone. And the reason: because his life was truly focused on Christ and on love and service of others.
The Lord's 'Follow me' was always a great strength in his life. For our dear Angelo the following words of the Lord were very true "You did not choose me, but I chose you and appointed you so that you might go and beat fruit, fruit that will last (Jn 15:16). The second set of words were "The good shepherd lays down his life for his sheep" (Jn 10:11). And finally: "As the Father has loved me, so I have loved you. Now remain in my love" (Jn 15:9).
We find in these words the entire soul of our dear Fr Angelo. He really did go wherever he was sent and tirelessly to bear fruit, a fruit that would last.
He was a Salesian priest to the utmost, because he gave his life to God for his sheep and for the entire human family, in a daily self gift in service of the Church and the congregation, always generously and with complete availability to serve others. Thus he became one with Christ, the good shepherd who loves his sheep. I have to say that what impressed me so much was when, after spending almost 50 years in his service as provincial, and leaving Ecuador, spending 46 years in service in Rome, still today so many in Ecuador and in the Salesian Province recall him so vividly. When I visited there they asked me how Fr Angelo Botta was going and I asked myself: What did this wonderful simple man do to be remembered with such nostalgia 50 years later. For me the answer is clear: He was a servant who knew how to love in a simple way, and he knew what the Lord has asked Peter to do: "Feed my sheep".
He had an openness of heart for everyone, and this teaches us something so wonderful and profound: it is telling us, still today, that by dwelling in the love of Christ we learn, at Christ's school, the art of true love.
And then he realised how true are the Lord?s words, "Whoever seeks to save his life will lose it, but whoever loses his life will save it. Our dear Fr Angelo never wanted his life for himself, to keep it to himself; he sought to give himself without reserve, to the very end, for Christ, and in Christ for others. And he knew how to do this in the simplicity of obedience. When the 21st General Chapter was over, Fr Egidio Viganó asked the Provincial of Ecuador, Fr Carlos Valverde, for the great gift, the great gift of giving him Fr Angelo Botta as his personal secretary. He carried out this service until 2008 with two other Rectors Major as well, Fr Vecchi and Fr Pascual Chávez.
'Follow mé continues to be the call. Once again the voice of the Lord is renewed in the dialogue with Peter reported in the Gospel for this celebration, saying: Simon, do you love me? Feed my sheep! The Lord's question: Angelo do you love me? Certainly our dear Fr Angelo's reply was always from the bottom of his heart: Lord, you know everything: You know that I love you. Love of Christ was his dominant strength. It was striking to see how Angelo was able to spend years in complete dedication to young people in Ecuador and the confreres and Salesian Family then later, for so many years in a few square metres of an office in Rome, but always with a worldwide perspective of the Congregation and the Church, while also discovering great spiritual energy in this service.
He was, then, a true missionary disciple of the Lord, a true son of Don Bosco, a man of great learning, a great communicator in word and through life, a spiritual man who knew how to help others to be more immersed in God.
Among the many significant features of his life was that he knew and had personal affection for Blessed Maria Troncatti, FMA, whose funeral he celebrated following the aeroplane crash that took Sr Mary's life. I would also like to remind you of the fact that in 1999 the Ecuadorian Republic granted Fr Angelo the honour of Commander for his service to this nation. This was what Angelo was like.
Today he has made his final journey and fulfilled his final obedience in following the Lord Jesus. Today, this 'Follow me' after such a wonderful Salesian life, has the scent of a journey OF ENCOUNTER WITH HIS LORD, of the Help of Christian's     hand, as he embraces the wonderful mystery of the Resurrection.
Fr Angelo always had a great love for Our Lady, who is always the purest reflection of God's mercy.
He listened to the words of the crucified Lord as spoken to him personally:
This is your mother! And he acted like the beloved disciple: he accepted her in the intimacy of his heart. From this mother he learned to conform himself to Christ.
We can be certain that our beloved Angelo is standing now at the window in the Father's House, looking down on us and interceding for us. Yes, dear Angelo, in the communion of the saints intercede for us all. We entrust your dear soul to the Mother of God, your Mother who guided you every day and will now lead you to the eternal glory of Your Son, Jesus Christ Our Lord. Amen.