THE MISSIONARY DREAM CONTINUES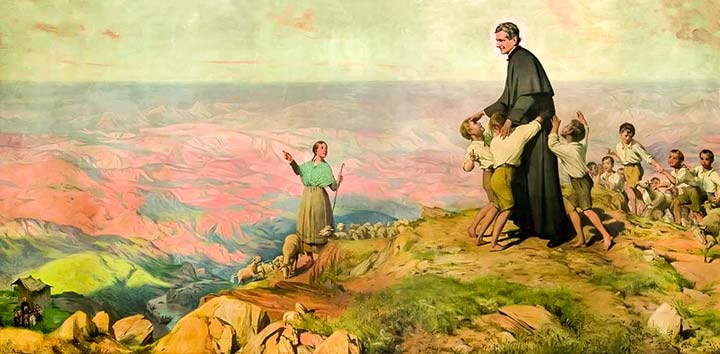 I have seen undertakings that would seem impossible: men and women giving of their lives daily in forests, terrible desert areas or out on the peripheries torn by violence every day. They proclaim Jesus through a simple and silent gospel lived on a daily basis.
The missionary dream referred to in the title, friends of the Salesian charism, is Don Bosco's great missionary dream. From the earliest years of the foundation of the small and fragile Society of St Francis de Sales (Salesians), he sent out the first missionaries to Argentina (1875), to busy themselves with the thousands of Italian migrants who had gone there, but with a profound desire to go and evangelise the indigenous populations in Patagonia as soon as possible nel più breve tempo possibile.
In one of his greatest and most prophetic missionary dreams, Don Bosco flies over the world with some of his young people, led by a Shepherdess. The young people read the signs of the cities that flow beneath them: Valparaíso, Santiago, then mountains, hills and seas, and Beijing! They call them out together.
'Good,' says the Shepherdess 'Now draw a line from one end to the other, from Santiago to Beijing, put the centre in the middle of Africa and you will gain a precise idea of what the Salesians have to do.' 'But how can they do all this?' Don Bosco exclaims. 'The distances are huge, the places difficult, and the Salesians so few'. 'Don't worry. Your sons will do this; and the sons of your sons and their sons.'
Well then. We are those sons and that missionary dream is still alive, very much alive. And we are part of that dream.
Don Bosco, were he physically present among us, would feel very happy, and he would make this clear with his broad and unforgettable smile, seeing how his two great congregations, the Salesians of Don Bosco and the Daughters of mary Help of Christians, continue to be missionaries and leave for horizons that he could only dream of in wave after wave towards distant shores. They have done so many times until this year, where the wave was 150 of them.
Ten thousand missionaries
On 29 September last, from the Basilica of Mary Help of Christans, 36 Salesians of Don Bosco and 12 Daughters of Mary Help of Christans, received their cross during a moving Eiucharist as a sign that they have been 'sent' to four continets.
I was able to share some information with everyone during the homily that is more than just a curiosity, but has charismatic worth and in terms of our Salesian identity too, that we have a book in the Missions Department that registers all the names of the missionaries who have left as part of the 150 missionary expeditions, and the first name is John Cagliero. The total number of Salesians sdb in that register up till now is 9,542 missionaries, since 1875. But we know that a thousand others have been sent in other circumstances without having received their missionary cross in Valdocco. I do not know how many missionary Sisters, Daughters of Mary Help of Christains there are, but certainly there are several thousand of them too.
So, can there even be the least doubt about the missionary charism of the two congregations so dear to Don Bosco? Of course not. We were born as religious for the young, for boys and girls throughut the world, especially for the poorest and most needy of them, but also to be evangelisers and missionaries where we are most needed.
Our brothers and sisters who received their missionary cross last month in Valdocco know this, that they are missionaries of Jesus wherever they are most needed. And this certainty brings to my heart so many faces and so many names of missionary sisters and brothers that I have met all over the world in these almost six years. Always in the midst of the poorest and most humble of the five continents.
I have seen undertakings that would seem impossible: men and women giving of their lives daily in forests, terrible desert areas or out on the peripheries torn by violence every day. They proclaim Jesus by word and many times without words, because they cannot proclaim him that way, but by an exemplary testimony, by the simple and silent gospel lived in daily life..
I have met sisters and brothers who have been in various prisons for more than thirty or forty years for reasons of faith. I met brothers who later became martyrs of the faith in a senseless and unjust death, like the last two Spanish Salesian missionary missionary martyrs (Fr César Antonio Fernández, and Fr Fernando Hernández, who both died in Burkina Faso).
Today, our brothers and sisters continue to be missionaries throughout the Americas, the Amazon, and the Andean mountain range; missionaries in Africa, missionaries in Mongolia, Eastern Europe, Nepal and many other places in Asia, almost all of Oceania... and we continue to receive questions and requests from all parts of the world to have the presence of the sons and daughters of Don Bosco.
Thanks also to you for your affection, your sympathy and also for your generosity when something is needed for the very poor. Together we can help many more and broaden the reach of our charity so much more..
May the good God bless you all.