SALESIAN SAINTS
Postulator General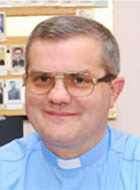 Fr Pierluigi Cameroni
Born December 1955, Fr Cameroni came to know the Salesians while he was at the Salesian college in Vendrogno, the town of his birth. Here in a place that offered him much spiritually and vocationally (Vendrogno has provided some 40 Salesian vocations), he came to know the Salesian Cooperator and Servant of God Attilio Giordani. On 12 September 1976 he made his profession as a Salesian of Don Bosco and on 23 June 1984 was ordained priest at Arese. The same year he completed his Theology degree at the Crocetta and in 1992 his Doctorate in Philosophy at the Salesian University in Rome.
From 1985 he was a member of the Postnovitiate community at Nave as formator and teacher of philosophy. Fr Cameroni has a wealth of experience in accompaniment and vocation ministry in the Lombardy-Emilia Province (ILE) and also with the Salesian Sisters, leading family and prayer groups in parish ministry. Provincial Delegate in ILE for the 24th and 26th General Chapters, for some years he has also been following up the spiritual life of the community known as Shalom at Palazzolo Sull'Oglio (Brescia). On 24 May 2007 the Rector Major, Fr Pascual Chávez, appointed him as the World Spiritual Moderator for the members of the Mary Help of Christians Association and on 6 July last the Rector Major appointed him as Postulator General for the Causes of Saints in the Salesian family.
The task of dealing with the Apostolic See is ordinarily entrusted to a procurator general, who is appointed by the Rector Major with the consent of his Council and remains in office ad nutum.
Causes of beatification and canonization promoted by the Congregation are entrusted to the postulator general, chosen in the same way as the procurator. (C. Art. 145)
---
Collaborator: Fr. Luigi Fedrizzi - Sig.ra Zanet Lodovica
The Team:
Vicepostulators for the current Causes:
BAGLIERI
P. Buccellato
Giuseppe
Sdb
BRAGA
P. Impelido
Nestor
Sdb
CIMATTI
P Compri
Gaetano
Sdb
CRESPI
Sig. Alvarez Rodas
Luis collab
DELLA TORRE
P Banchong Santisukniran
Joseph
Sdb
FMA varie
Sr Ciężkowska
Sylwia
Fma
HLOND
Don PORZYCKI, P Zimniak
Tomasz, Stanislaw
SChr, sdb
LOZANO
Sr. Marin
Eulalia
HSCJM
MAJCEN
P Ciglar
Anton
Sdb
MARENGO
P Puthenpurakal
Joseph
Sdb
QUADRIO
P Baschirotto
Pio
Sdb
SWIERC + 8cc.
P Szafarski (causa Don Franciszek Miska ) P. Wasowicz
Michal ,Jaroslaw
Sdb, Sdb
VENDRAME
P Mawrie
Barnes Lister
Sdb