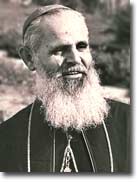 FILES:
Opening of Diocesan Inquiry: 12-04-2007
Closing of Diocesan Inquiry: 16-02-2013
The beginnings
Orestes Marengo was born in Diano d'Alba, a Piedmontese town in Cuneo province, on 29 August 1906. He attended the Salesian Sisters' primary school for three years, where his love for Don Bosco grew after having learned about him from his parents, Lorenzo and Agostina Montaldo. Because of their wish Orestes continued on with his studies in Valdocco where he had the opportunity to get to know some first generation Salesians: Fr Albera, Fr Francesia and Fr Rinaldi. In the second year of his secondary studies,
Providential meeting with Fr Ferrando
Providence saw to it that Fr Stephen Ferrando came to the school as a temporary teacher, and the same Fr Ferrando would leave shortly afterwards for India. Orestes also wanted to go to the missions. So he made his request to the Prefect General of the Congregation, Fr. Ricaldone, who sent him to Assam, in Shillong to make his novitiate.
Under Fr Ferrando's guidance, first as teacher then as Rector of the studentate, Orestes visited the Indian villages, learning the local languages and livening up the festive oratories. During his theology studies he had the good fortune to be working with the parish priest in the Shillong community, Fr Costantino Vendrame, from whom he learned much of the Salesian pastoral style: the Da mihi animas of Don Bosco was a primary motivation for missionary work.
On 2 April 1932, at Holy Redeemer Church in Shillong, Orestes was ordained a priest. From that moment he gave heart and soul to the task of visiting the villages in North East India. He travelled far and wide. He brought the Gospel message to thousands of families, helping them in every way possible. He immediately won the sympathy of the people, and spoke more than 20 local languages. He was a man of prayer, warm and welcoming as a person, and he knew how to put people at ease with his kindly manner.
Appointed Bishop of Dibrugarh, then Tura
In 1951 he was appointed Bishop of the new diocese of Dibrugarh. He accepted in a spirit of obedience and was ordained on 27 December 1951 in the Basilica of Mary Help of Christians in Turin. He continued visiting the villages, preaching and hearing confessions. In 1964 he was appointed as Bishop of Tezpur, and five years later was entrusted with the care of the future diocese of Tura. He resigned before time in order to give some room to a local bishop who was finally accepted by the Indian government. He spent the last years of his life carrying out apostolate. He stayed for some time helping the new Bishop of Tura, looking for funds to support the diocese. He remained available for various tasks until his death in Tura on 30 July 1998.
Characteristics
Obedience to his superiors, concern for the salvation of souls and typical Salesian optimism were the most loved and evident characteristics of this fourth missionary Servant of God in North east India.
Prayer for the beatification and canonization Servant of God, Bishop Orestes Marengo
Almighty and merciful Father,
we your children,
thank you very much
for the gift of Bishop Marengo to India,
and especially to the North East.
As a great missionary
he walked the length and breadth of his mission area,
learned many languages,
and was unparalleled in his love for everyone he met.
He spent long hours in prayer to you, Father,
to shower your blessings on us.
Now that you have welcomed him in heaven,
please make him a worthy intercessor
for us who invoke him
(mention your special intention).
Give us the joy of experiencing him
as an example of holiness for your people,
so that in his footsteps
we too may seek souls and serve you alone.
Through Jesus Christ your Son Our Lord.
Amen