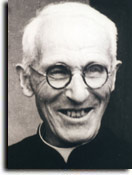 FILES:

Declared Venerable: 08-07-2014
God our Father,
You gave your servant, Joseph Augustus Arribat,
a disciple of Don Bosco,
a heart radiant in priestly devotion,
filled with kindness and forgetfulness of self,
with a spirit of peace and an ever-smiling, humble and welcoming countenance.
Deign to hasten the day when the Church
will publicly recognise this holiness of life,
so that his example may encourage others to glorify you.
We ask you this through Jesus Christ your Son our Lord.
Amen.
From a poor family - began school at 18
Joseph Augustus Arribat was born 17 December 1879 at Trédou in the départment of Aveyron (France). The family was a peasant family but with strong Christian values. The family's poverty meant that the young Augustus had to begin his secondary schooling at the Salesian Oratory in Mareseilles when he was already 18 years of age.
Immediately attracted to Salesian charism
Don Bosco's charism attracted Augustus, who asked to begin his novitiate with the Salesians. In 1902 the France of that time was radical and had expelled 30,000 Religious. The novitiate was transferred to Avigliana in Piedmont and Augustus received the cassock at the hands of Blessed Michael Rua, becoming a Salesian at age 25.
Stretcher-bearer during 1st World War
Returning to France he began his active Salesian life, like that of all his confreres, in a semi-clandestine situation, first at Marseilles and then at La Navarre. He was ordained priest in 1912. He was then called to arms during the First World War and served as a stretcher bearer in the Medical Corps.
Saint of the Valley
The war over, Fr. Arribat continued to work intensely at La Navarre until 1926 after which he went to Nice where he remained until 1931. In 1931 he began his service as Rector at La Navarre and at the same time took up the task as parish priest of St. Isidor in the valley of Sauvebonne. His parishioners called him the 'Saint of the Valley'. Augustus was a good man and people young and old liked to be around him. His confessional was full because people knew they would be understood, forgiven and encouraged.
Switzerland and South Eastern France
At the end of the third year he was sent to Morges, in the Canton of Vaud, Switzerland. He received three mandates thereafter and successively of six years each, first at Millau, then at Villemur and finally at Thonon in the diocese of Annecy.
Difficult task during 2nd World War
The most dangerous but also grace-filled period was probably at Villemur during the Second World War. SS soldiers took over the school where he was hiding some Jewish youngsters. Not far from the Salesian house he often met militant communist Spanish workers. Once he was asked to bring about peace in a political refugee camp. With an open, smiling demeanour, this son of Don Bosco managed not to alienate anybody. While his spare features and his asceticism remind one of the Cure of Ars, his smile and his meekness were truly Salesian. "He was the most spontaneous of people you could know" says one witness.
Returned to La Navare
Returning to La Navarre in 1953, Fr. Arribat would remain there till his death on 19th March 1963. He is buried at La Navarre.