Don Bosco passed on to us a unique style of living and working, an original blend of life and action which we call the Salesian spirit. Here is an outline of its characteristics: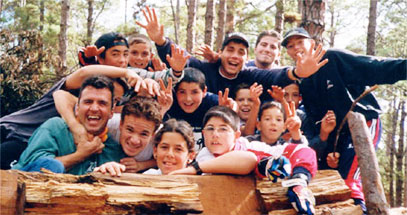 A special concern for the welfare of young people wherever we are.
Loving kindness and a welcoming attitude – lived out in openness, cordiality, readiness to make the first approach and to put others at ease with our friendship, respect and patience.
Optimism and Joy. There is no place for discouragement in the face of difficulties, but a calm and serene acceptance of whatever is good.
Work and temperance or learning how to balance tireless energy and hard work with simplicity and moderation. It also means knowing how to control the promptings of the heart in order to remain even-tempered and serene.
Acceptance of daily routine with cheerfulness. "Here we make sanctity consist in doing our duty cheerfully."
Creativity and flexibility - hallmarks of Salesian presence in our works among the young.
A realistic perspective on life coupled with our attentiveness to the promptings of the Spirit manifested through the signs of the times.
Our educative method - 'The Preventive System' – is a system based entirely on reason, religion and loving kindness, a unique spiritual and educational experience of working with and through the young for their and our salvation.
Deep trust in God and a constant listening to His will are the spiritual foundations of our work. In this way we strive to keep alive our collaboration in God's creative and loving action in history.
(Source: C. 10-20)