JESUS CHRIST, MARY AND ST JOSEPH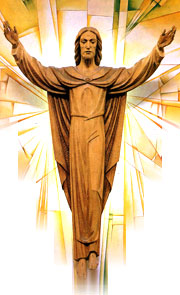 Jesus Christ is our inspiration: our 'Living Rule', our 'Model', our 'Good Shepherd', our 'Guide' and our 'Goal'.
Reading the Gospel we become more aware of the quality of his presence and power in our lives:
Gratitude to the Father for the gift of a divine vocation offered to all people;
Predilection for the little ones and the poor;
Zeal in preaching, healing and saving because of the urgency of the coming of the Kingdom,
The preoccupation of the Good Shepherd who wins hearts by gentleness and self-giving.
The desire to gather his disciples into the unity of brotherly communion. (Const. Art. 11)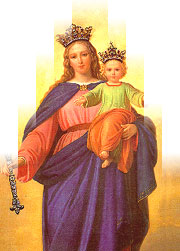 Mary, Mother of Jesus, is the principal patroness of our Society.
She showed Don Bosco his field of labour among the young and was the constant guide and support of his work, especially in the foundation of our Society.
In her honour he set up the 'Institute of the Daughters of Mary Help of Christians' as a living testament of gratitude. We believe she is present among us and we entrust ourselves to here that we may be better witnesses of her Son's boundless love to the young people.
St Joseph, also inspires us.
His humble acceptance of the Father's plan in the history of salvation, his daily dedication to the Jesus and Mary through his work as a carpenter, and his formative influence on the adolescent Christ - these are reasons for which we call him our patron even as we strive to live our vocation and mission today.